A review of Martha Graham's sell-out Broadway performance from January, 1944:
"Martha Graham's art has always been characterized by constatnt experimentation with new forms and new contents."
"In New York last week, on the polished floor of the Rainbow Room, Rockefeller Center's skyscraping night club, Hawaiians, Chinese, Scandinavians and Africans stamped whirled, leaped, and gesticulated to a dozen different kinds of music...it was an exposition of no little cultural and social importance - 'Dance International,' a festival showing the progress of the dance in all nations since 1900."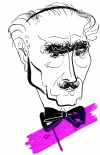 In their quest to document the evolution of dance in the United States, the audiences were treated to Modern Dance performances by Martha Graham, Doris Humphrey, Paul Weidman and Paul Haakon.
Quoting the advocates of Modern Dance quite liberally, this article presents for the reader their impassioned defense as to why the era of a new dance form had arrived and why it was deserving of global attention and much needed in America's schools. The column centers on the goings-on at Teacher's College, N.Y.C., where a certain Mary P. O'Donnell once ran the roost at that institution's dance department; it was O'Donnell's plan to send her minions out in all directions like the 12 Apostles of Christ, spreading the good news to all God's creatures that Modern Dance had arrived:
"So Teacher's College is preparing student teachers to go into schools and colleges and spread their understanding of the dance... The classic ballet and romantic forms of the dance drew limited audiences, people directly interested in the arts. Today the strong, free movements and the universal emotions and concepts expressed make the dance of wider appeal. It touches upon the emotional life of Mr. and Mrs. Everyman, whether they have an aesthetic life or not." was the head of the dace department at Columbia Teacher's College
Attached is one of the first articles to be written about "balletomanes" Lincoln Kirstein (1907 - 1996) and his efforts with George Balanchine (1904 – 1983) and philanthropist Edward M.M. Warburg (1910 - 1992) to form the first American ballet company (the corps was later called the New York City Ballet).
Here is a paragraph about the school of dance that was maintained by Isadora Duncan in Rye, New York; the notice is illustrated by three stunning photographs by Frances Benjamin Johnston (1864 – 1952) depicting thirteen young girls in Grecian attire.
Isadora Duncan (1878-1927), said to be the birth mother of Modern Dance, is profiled in the attached VANITY FAIR MAGAZINE article written by Arthur Hazlitt Perry:
"She is truly a remarkable woman. She never dances, acts, dresses, or thinks like anybody else. She is essentially the child of another age, a Twentieth Century exponent of a by-gone civilization. She missed her cue to come on, by twenty-three hundred years."