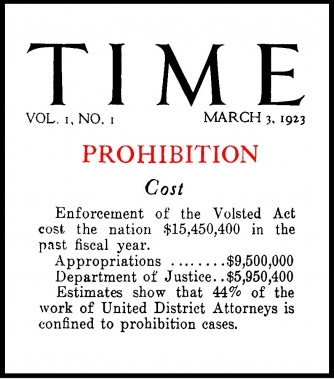 Attached is an editorial that was co-authored by George Jean Nathan and H.L. Mencken from their reoccurring column in THE SMART SET: "Répétition Générale". This short columnists sought to expose the damages inflicted upon the country by the "guardians of the national virtue" and their bastard children, Prohibition and the Volstead Act, which will primarily serve to promote the wide (though illegal) distribution of all the poorest distilled spirits concocted in the most "remote frontiers of civilization".
Prohibition had been in place for a little over eleven and a half years by the time this uncredited editorial was published. The column is informative for all the trivial events that Prohibition had set in motion and are seldom remembered in our own time - such as the proliferation of private golfing institutions; clubs that intended to appear innocent enough, but were actually created for "Wet" dues-paying golfers. A recently posted article (1917) that appeared in THE LITERARY DIGEST near the end of 1929 examined the astronomical wealth that had been earned by the gangsters in America's biggest cities.
Four and a half years into Prohibition, journalist Jack O'Donnell reported that there were as many as 25,000 women who had run-afoul of the law in an effort to earn a quick buck working for bootleggers:
"They range in age from six to sixty. They are recruited from all ranks and stations of life - from the slums of New York's lower East Side, exclusive homes of California, the pine clad hills of Tennessee, the wind-swept plains of Texas, the sacred precincts of exclusive Washington... Women in the bootleg game are becoming a great problem to law enforcement officials. Prohibition agents, state troopers and city police - gallant gentlemen all - hesitate to embarrass women by stopping their cars to inquire if they are carrying hooch. The bootleggers and smugglers are aware of this fact and take advantage of it."
Verily, so numerous were these lush lassies - the Federal Government saw fit to construct a prison compound in which to incarcerate them; you can read about that here...
This is an informative read that was written during the closing months of "the Noble Experiment" by one of New York's most admired crime reporters, Joseph Driscoll. The article is composed of numerous profiles of mob bosses both famous and forgotten from numerous cities throughout the nation.
"[These] personality sketches constitute a roll-call, a memorial service for the men of direct action, the gentleman of the rackets, who prospered under prohibition and who (we hope) may not be with us much longer, certainly not in the same old style and the same old stand... "
An Al Capone article can be read here...
One decade into Prohibition, the editors of THE LITERARY DIGEST polled numerous states in an effort to understand the law's standing within the nation.