E.B. Osborn of the London Morning Post reviewed H.L. Mencken's book, The American Language
(1921) and came away amused and in agreement with many of the same conclusions that the "Bard of Baltimore" had reached:
"...Americans show superior imaginativeness and resourcefulness; for example, "movie" is better than "cinema"...The American language offers a far greater variety of synonyms than ours; transatlantic equivalents for "drunk" are "Piffled, spifflicated, awry-eyed, tanked, snooted, stewed, ossified, slopped, fiddled, edged, loaded, het-up, frazzled, jugged and burned."
Read about the Canadian Preferences in English...
- from Amazon: A Decade-by-Decade Guide to the Vanishing Vocabulary of the Twentieth Century
Vanity Fair correspondent L.L. Jones cracked open a copy of The American Language by H.L. Mencken:
"At last a man has arrived who knows something about English prose style under American conditions..."
The rest of his thoughts can be read in the attached review.
Culture critic H.L. Mencken (1880 - 1956; author of The American Language reviewed American English
by Gilbert M. Tucker.
"The fact is, of course, that American English is noticeably superior to British English in several important respects, and that not the least of these superiorities lies in the learned department of spelling. Here even the more intelligent Englishmen are against their own rules, and in favor of the American rules, and every year one notices a greater tendency among them to spell "wagon" with one "g" instead of two...The English "-our" ending, the main hallmark of English spelling, dies harder."
Attached is small YANK MAGAZINE article pertaining to a booklet titled, When You Meet an American that was distributed to assorted British girls by their government during the Second World War in order to help them understand that unique brand of English spoken by American soldiers:
"Try not to appear shocked at some of their expressions...if a lad from back home asks for a hot dog he actually means, 'fried sausage in split rolls'...'Hi'ya baby!' is legitimate".
The booklet must have done its job. By the end of the war there were some 20,000 children born to British girls by American service personnel.
Click here to read further about American teen slang.
*Watch this Color Footage of American GIs Enjoying the Company of English Girls*
Having made a twenty year study of the English spoken in both Britain and the United States, Alois Brandl (1855 - 1940), chief Professor of English literature at the University of Berlin, found himself in an advantageous position that would allow him to make definitive conclusions about the evolution of the English language on American shores: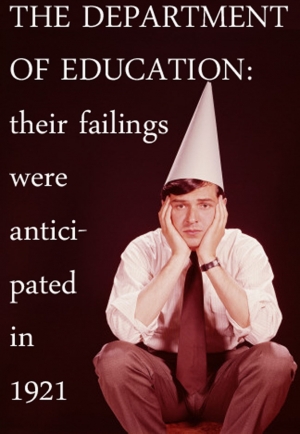 "Mr. Brandl has been comparing English as it is spoken by Englishmen and English as it is spoken by Americans, and has come to the conclusion that the former is not a whit purer than the latter... the English of Americans was not only improving, but was already as good as that of our English cousins... He is very severe on the Cockney accent, and declares that the English of the ordinary educated American is quite on an equality with that of the ordinary educated Englishman..."
Professor W.W. Skeat (1835 - 1912), chair of Anglo-Saxon Studies at Cambridge University, entirely agreed with the German savant and went on in greater detail along similar lines.
No mention was made as to what unit of measure was applied to reach their deductions.
Heaven knows that the average American had it tough during 1931. The Great Depression was coming down hard on them - but the harshest blow came from our neighbor to the North who rejected our manner of spelling!