Recently Added Articles
Click here to be notified when articles
are added to your favorite categories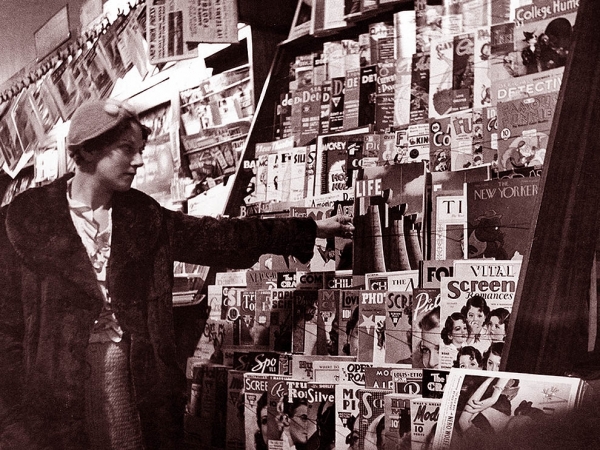 Are the Native Americans of Jewish Origin? (The Literary Digest, 1912)
The earliest encounters with the Native American had left the brain trust of Europe entirely baffled. The persistent matter as to "who" these people were remained an unanswered question well into the Nineteenth Century, for in order to qualify as a member of "enlightened" classes, a fellow had to show some sufficiency in at least two fields: classical literature and the Bible. Therefore, it stood to their reasoning that the inhabitants of the Americas had their story told in one of those two fields of study.
There was Illegal Immigration from Mexico Back Then, Too (Ken Magazine, 1938)
This 1938 magazine article can be filed in the "the more things change, the more they stay the same folder". It lists all the assorted means by which Mexicans have attempted to illegally cross over the Southern border, whether to smuggle others, import illegal drugs or for their own gratification.

Marijuana was becoming a problem in 1938, too. Read about it here.

Click here to read about the U.S. Border Patrol.
The Border Patrol (Collier's Magazine, 1940)
This article lays out the many responsibilities and challenges that made up the day of a U.S. Border Patrol officer stationed along the Rio Grande in 1940:

"In one month these rookies must try to absorb French and Spanish, immigration law, criminal law, naturalization, citizenship and expatriation law, fingerprinting, criminal investigation, first aid, firearms and the laws of the open country through which refugees are tracked down in the desert and forest."

Click here to read a 1937 article about the illeagal immigrants who came through Ellis Island.
''I Am Not A Dictator'' (Liberty Magazine, 1938)
In 1938, Fulton Oursler (1893 - 1952), editor of Liberty, crossed the Atlantic Ocean in order to ask Benito Mussolini why he invaded Ethiopia and to get his thoughts as to whether there would be peace in Europe. We can't say that Il Duce gave very thorough answers to those questions, but Oursler did find out what was eating Mussolini:

"Why is it that the people of the United States are so against Fascism? What is the matter with them? Why is the whole press so bitter against Fascism? Can you answer me that?"
''God and Alcoholics'' (Liberty Magazine, 1939)
"Somebody said the Lord's Prayer, and the meeting broke up. I walked three blocks to the subway station. Just as I was about to go down the stairs - BANG - It happened! I don't like that word miracle, but that's all I can call it. The lights in the street seemed to flare up. My feet seemed to leave the pavement. A kind of shiver went over me and I burst out crying...I haven't touched a drop since, and I've since set four other fellows on the same road."
Post-Repeal Fears (Liberty Magazine, 1933)
What was to be done with all the racketeers who dominated the Twenties once Prohibition was prohibited? Organizing the collective labor of truck drivers seemed to have been the most obvious project for the kingpins, but what of the average foot soldier?

"Even the rank and file have not been driven to the breadline. Current quotations for gunmen have fallen from $300 a week to as low as $100. Plain sluggers command even scantier wages. A fancy pineapple job once cost $250; by 1933 you could get a good workman for $50."
Spotlight on the Secret Service (United States News, 1963)
"The chief responsibility of the U.S. Secret Service is to guard the life of the President... In Dallas, on November 22, a sniper hidden in an office building shot and killed President John F. Kennedy... It was the first time since the Secret Service took over its protective mission 62 years ago that a President had been harmed."
American Leviathan (Liberty Magazine, 1945)
Between the years 1941 and 1944 the United States achieved a level of power that the tyrants of yore only dreamed about:

"Clearly here was a phenomenon to make anyone sit up and take notice - a new kind of military machine, a new kind of global power that apparently could be delivered anywhere in the world, at any time... By building 75,000 to 100,000 planes yearly and by improving planes and motors, we have emerged suddenly as an air power...No other nation has made a comparable investment in carrier aviation. No other nation would dare to put an expeditionary force to sea against a nation strong in carriers and land -based aircraft...With the object of defending ourselves, we have solved one problem after another until we have stumbled on a formula for conquering most of the world."

A similar article appeared twenty years earlier...
''While Brave Men Die'' (American Opinion, 1967)
"One terrible and overwhelming fact must be faced: Our soldiers and our pilots are being maimed and killed fighting a war that they are not being allowed to win. The Johnson Administration is not keeping faith with the men who must fight this war, with the half-million super-patriots, the half-million anti-Communists, who are fighting and dying in action against the forces of the International Communist Conspiracy."
Dalton Trumbo Brings on the Storm
(Rob Wagner's Script Magazine, 1946)
Blacklisted Hollywood screenwriter Dalton Trumbo (1905 – 1976) did not do himself any favors when he wrote the attached essay outlining his sympathies for Stalin's Soviet Union at the expense of the United States. A year later he would find himself in the hot-seat in front of the House Un-American Activities Committee (1938 - 1975) where his non-cooperation landed him eleven months in the hoosegow on contempt of Congress charges.

In 1887 the New York Times reviewed the first English edition of Das Kapital by Karl Marx, click here to read it...
Did You Not See Your Search Article On This Page?
The Subject You Are Seeking Is On This Site,
It Has Simply Been Removed From This Page.
Please Use This Search Engine To Locate It.