Recently Added Articles
Click here to be notified when articles
are added to your favorite categories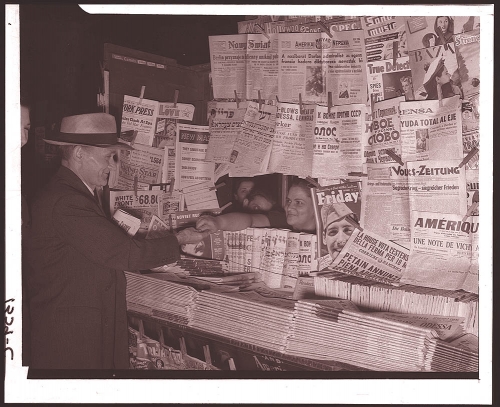 Krazy Kat: Low Art Meets High Art (Vanity Fair, 1922)
At the very peak of bourgeois respectability, one of the high priests of art and culture, Gilbert Seldes (1893 - 1970), sat comfortably on his woolsack atop Mount Parnasus and piled the praises high and deep for one of the lowest of the commercial arts. The beneficiary was the cartoonist George Herriman (1880 – 1944), creator of Ignatz Mouse and all other absurd creations that appeared in his syndicated comic strip, "Krazy Kat" (1913-1944):

"His strange unnerving distorted trees, his totally unlivable houses, his magic carpets, his faery foam, are items in a composition which is incredibly with unreality. Through them wanders Krazy, the most tender and the most foolish of creatures, a gentle monster of our new mythology."
African-American Fighter Pilots (Click Magazine, 1943)
A three page photo-essay found on the yellowing pages of a 1943 issue of CLICK MAGAZINE introduced American readers to the flying "Black Panthers" of the U.S. Army Air Force; a fighter squadron composed entirely of African American pilots, trained "at the new $2000,000 airfield in Tuskegee, Ala.". The four paragraphs that tell their story are accompanied by eight portraits of the pilots and snap-shots of the assorted ground crew, mechanics and orderlies - all Black.

"They undoubtedly will reach a combat area this summer. One squadron, the 99th, has arrived overseas already. [These] pilots, whose insignia is a flame-spewing black panther, are rarin' to join them. They want to roar a personal answer to the Axis 'race superiority' lies."
The D-Day Landing Crafts (Click Magazine, 1942)
If you ever wondered why The National W.W. II Museum is located in New Orleans rather than West Point, Annapolis or the nation's capitol - the answer can be spoken in two words: Andrew Higgins. Higgins was the innovator who designed and manufactured the landing crafts that made it possible for the Allied forces to land on all those far-flung beaches throughout the world and show those Fascists dogs a thing or two. His factory, Higgins Industries, was located on Lake Pontchartrain in New Orleans and it was for this reason that the museum board of directors chose to doff their collective caps, and erect their repository in his home town.

Attached is a five page photo-essay about Higgins and all that he was doing to aid in the war effort.
The Revolution in 1920s Fashion (Saturday Review of Literature, 1925)
A clever observer of the passing scene typed these words about the social revolution that he had been witnessing for the past six years:

"Tight-laced corsets, high collars, innumerable layers of petticoats, and what not else, may have (problematically) made the female form a thing of attractive mystery, but they made the average female herself very inapt for the action, which she was beginning to claim the right to, of leaping on moving omnibuses. In those dark ages before the war women's fashions changed from year to year, but generally speaking at the dress-makers word of command...The first short skirt sounded the knell of his dictatorship, and since then womanhood has never looked back...I say again that [today's fashion] is a phenomenon which the social historian appears to be passing over. We do not realize that a tradition of centuries has within a decade been stood its head..."

Click here to read about the fashion coup of 1922.
Argentina: Silent Nazi Ally (Collier's Magazine, 1944)
"Just back from South America, COLLIER;S correspondent reports on the totalitarian government in Argentina, it's link to Hitlerism, and what to do to guard our future security."

"The Argentine government has harbored spies and saboteurs. Colonel Frederic Wolf, the Himmler of the German Embassy and the latest director of the real Nazi spy ring, remained in Buenos Aires until quite recently. Our military forces have plenty of evidence that Allied ships have been sunk, and American lives have been destroyed as a result of information broadcast from Argentina to U-boat commanders."

Click here to read about the headache that was Evita Peron.
Who Pays the Bills Racked-Up in a Socialist State? (Literary Digest, 1894)
This article was written long before the crumbling Euro and the economic collapse of Greece, Spain, Portugal, Venezuela, East Germany and the USSR - it is an 1894 editorial that outlines why socialism cannot not work:

"He insists that all previous Social evolutions have meant an improvement in production and an increase in income, but the peculiarity of the Socialistic programme is that "it is to be not a money-making, but a money-spending evolution," in which "everybody is to live a great deal better than he has been in the habit of living, and to have far more fun."
The Origins of ''Undocumented'' Labor (The New Leader, 1951)
This article was penned in 1951 by Hank Hasiwar, a loyal New Deal Democrat and president of the National Farm Labor Union (formerly the Southern Tenant Farmer's Union). His column was written in order to express his complete and utter outrage that there were members of congress who openly worked to undermine the welfare of American workers:

"U.S. Senator Clinton Anderson (D-NM) made a strenuous attempt to flood the farming areas with hundreds of thousands of foreign nationals to be brought in at great expense to the taxpayers in order to provide cheap labor for the farm owners."
Free Enterprise And The Assimilation of Immigrants (Readers Digest, 1923)
The testimony given in this column from the early Twenties is as true today as it was then. It was written by a 1905 immigrant who observed that the first word immigrants learn when arriving in America is "BUY". When presented at every corner with products they'd never seen before in tandem with the smiling and encouraging face of the sales staff, the immigrant can't help but feel an inner drive to join the American society:

"And when he succumbs, why wonder that he grows more aggressive, demanding higher wages and striking when the demand is denied?"
Lillian Gish Recalls ''The Birth of a Nation'' (Stage Magazine, 1937)
Twenty-two years after wrap was called on the set of "The Birth of a Nation", leading lady Lillian Gish (1893 - 1993), put pen to paper and wrote this reminiscence about her days on the set with D.W. Griffith:

"In 'Birth of a Nation' we used as many as six hundred people, and the complete cost of the picture was ninety-one thousand dollars. It was the first motion picture to run for two hours, and to be shown in a legitimate theater twice a day at theater prices... D.W. Griffith had his reward however, when President Wilson saw it at the White House and said, 'It is like writing history with lightening, and my only regret is that it is all so terribly true.'"
The Persecution of the Christians (Pathfinder Magazine, 1952)
Here is an account by an eyewitness to the many assorted atrocities dished out to the Christians in China by the followers of Mao Zedong.
Did You Not See Your Search Article On This Page?
The Subject You Are Seeking Is On This Site,
It Has Simply Been Removed From This Page.
Please Use This Search Engine To Locate It.