Recently Added Articles
Click here to be notified when articles
are added to your favorite categories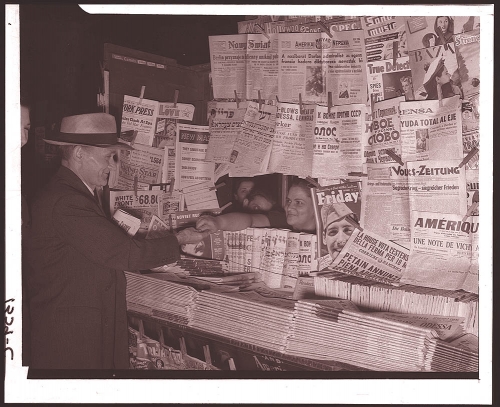 Contest On Okinawa (Yank Magazine, 1945)
Writing about the bitter fighting on Okinawa some years after the war, Marine veteran Eugene Sledge
remarked that he and his comrades had been reduced to "Twentieth Century savages". Much of what he said is confirmed in thie attached YANK MAGAZINE article from 1945 which clearly illustrated the terror that was experienced by G.I.s and Marines on that island after the sun went down.
Life in Post-War Vienna (Yank Magazine, 1945)
Published six months after the German surrender was this account of post-war Vienna, Austria: the people, the shortages and the black-market. Originally liberated by the Soviet Army, the Americans occupied the city three months afterward; this is an eyewitness account as to what Vienna was like in the immediate wake of World War II. Reading between the lines, one gets a sense that the Viennese were simply delighted to see an American occupying force swap places with the Soviet Army, although the Soviets were not nearly as brutal to this capital as they were to Berlin.

In compliance with the Potsdam Conference, Vienna was soon divided into four zones of occupation.
Dalton Trumbo Brings on the Storm
(Rob Wagner's Script Magazine, 1946)
Blacklisted Hollywood screenwriter Dalton Trumbo (1905 – 1976) did not do himself any favors when he wrote the attached essay outlining his sympathies for Stalin's Soviet Union at the expense of the United States. A year later he would find himself in the hot-seat in front of the House Un-American Activities Committee (1938 - 1975) where his non-cooperation landed him eleven months in the hoosegow on contempt of Congress charges.
'I Still Believe in Non-Violence' by Mahatma Gandhi (Collier's Magazine, 1943)
"In the face of history's most brutal war, as men the world over live by the rule of kill or be killed, India's leader preaches a gospel of never lifting a weapon or pulling a trigger. Here he tells why":

"The principle of non-violence means, in general terms, that men will deliberately shun all weapons of slaughter and the use of force of any kind whatsoever against their fellow men...Are we naive fools? Is non-violence a sort of dreamy wishful thinking that has never had and can never have any real success against the heavy odds of modern armies and the unlimited application of force and frightfulness?"
TRENCH RAID! (The American Legion Weekly, 1922)
This is an eyewitness account of the very first trench raid to have been suffered by the U.S. Army in France; like most first time engagements in American military history, it didn't go well and resulted in three dead, five wounded, and eleven Americans taken as prisoner. Historians have recorded this event to have taken place on the morning of November 3, 1917, but this participant stated that it all began at

"3:00 a.m. on November 2, after a forty-five minute artillery barrage was followed by the hasty arrival of 240 German soldiers, two wearing American uniforms, jumped into their trench and began making quick work out of the Americans within."

The U.S. Army would not launch their own trench raid for another four months.
How a Southerner Overcame His Racist Attitudes (Coronet Magazine, 1948)
The attached is an historic article that explains the lesson that so many white Americans had to learn in order that America become one nation, indivisible, with liberty and justice for all. There can be no doubt that many ragged, dog-eared copies of this middle class magazine must have been passed from seat to seat in the backs of many buses; perhaps one of the readers was a nineteen year-old divinity student named Martin Luther King, Jr.?

Before the Atom Bomb came along, Joseph Stalin hatched a scheme to invade the U.S. and create two Americas, one black, one white - click here to read more...
The Rise of Oral Roberts (Coronet Magazine, 1955)
The editors at CORONET recognized that Oral Roberts was not your average minister, who was simply contented to preside over thirty full pews every week; they labeled him a "businessman-preacher" and subtly pointed out that the man's detractors were many and his flashy attire unseemly for a member of clergy:

"God doesn't run a breadline...I make no apology for buying the best we can afford. The old idea that religious people should be poor is nonsense."
The Woman Who Didn't Want to Dress Like Jackie... (Coronet Magazine, 1961)
This unique (and thankfully humorous) voice lets us know how widespread "The Jackie Look" was in the America of the early sixties - but she will have non of it:

"I am accepting all offers - including Confederate money - for my Jackie Kennedy wardrobe of sleeveless 'avant-garde' dresses and pill-box hats. I'll even throw in a necklace or three of pearls. If you insist, and I hope you do, I'll also add my French cookbook and my water-color set... I have had it. I just don't want to look like Jackie Kennedy. The competition is becoming far too keen."

We recommend: Jackie Style
The Increased Suicide Rate (Literary Digest, 1933)
With the arrival of the Great Depression came an increase in the American suicide rate. When this article appeared on the newsstands the Depression was just three and a half years old - with many more years yet to come. As the Americans saw 1932 come to a close, the records showed that 3,088 more acts of self-immolation had taken place than had been recorded the year before.

This article devoted very little column space to the growing number of global suicides, as the title indicates, but primarily concerns U.S. statistics, breaking down the figures by listing the cities with the higher suicide rates and what manner of adult was most likely to indulge.

When W.W. II began and the factories reopened, the reality of having money and full-time employment made so many people giddy with excitement it proved to be too much for them - click here to read about that...

Read about the the mood of the Great Depression and how it was reflected in the election of 1932 - click here...
A World War II Prayer Story (Reader's Digest, 1944)
"A psychologist, in discussing some of the widely publicized 'miracles' of the war, puts it this way: 'God may be likened to an electric dynamo. We can receive the power of this dynamo by attaching ourselves to it by prayer; or we can prove it has no influence in our lives by refusing to attach ourselves to it by prayer. The choice is ours...' Today indisputable proof of the power of prayer are pouring in from every quarter of the globe. The only surprising thing is that we think it surprising. These praying soldiers, sailors and aviators of ours are merely following the example of Washington who knelt to ask for aid in the snows of Valley Forge and of Lincoln who, in the darkest days of the Civil War, declared: 'Without the assistance of That Divine Being Who attends me I cannot succeed; with that assistance I cannot fail.'"

Click here to read about one of the most famous prayers of the Second World War...
Did You Not See Your Search Article On This Page?
The Subject You Are Seeking Is On This Site,
It Has Simply Been Removed From This Page.
Please Use This Search Engine To Locate It.