Recently Added Articles
Click here to be notified when articles
are added to your favorite categories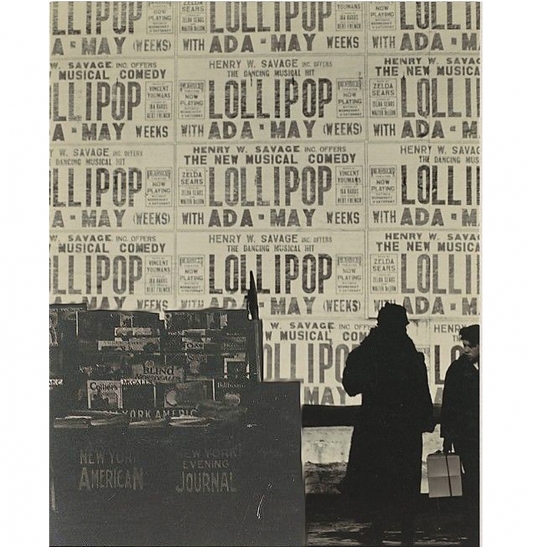 Wedlock: Ideal for Men (Manners, Culture and Dress, 1893)
Wise words from the Victorians regarding the perils of bachelorhood:

"There is no tear shed for the old bachelor; there is no ready hand and kind heart to cheer him in his loneliness and bereavement..."

Click here to read other Victorian Gems.
The 1920s Craze for Flagpole Sitting (Literary Digest, 1929)
Here is a 1929 magazine article that makes clear for us in the digital age just how appealing the fad of flag pole sitting was to the YouTube-starved teenagers of the Twenties. This article tells the tale of Avon "Azie" Foreman and Jimmy Jones, two courageous flag pole sitting sons of Baltimore who inspired their feminine Maryland counterparts, Ruth McCruden and Dorthy Staylor, to ascend to perch. This journalist was probably not alone in believing that anyone who was capable of placing their keister where the flag should be was a rare and distinct breed of individual - possessing a faultless character and was destined for great things in the future.

Good; they will need such sturdy souls in two months - when the bottom falls out of the N.Y. Stock Exchange and the Great Depression begins - you can read about that here...
Eleanor Roosevelt on Japanese-American Internment (Collier's Magazine, 1943)
In this article, First Lady Eleanor Roosevelt (1884 – 1962) attempted to play (very politically) both sides of the street, implying on the one hand that the creation of the Japanese-American internment camps seemed a reasonable measure in wartime; but the reader doesn't have to have a degree in psychology to recognize that she believed otherwise.
George Orwell (Pathfinder Magazine, 1950)
"No one perhaps has done as much as the British writer who calls himself George Orwell to persuade former fellow-travelers that their ways lie in some direction other than the Stalinist party line."

So begin the first two paragraphs of this book review that are devoted to the anti-totalitarian elements that animated the creative side of the writer George Orwell (born Eric Arthur Blair: 1903 – 1950). The novel that is reviewed herein, "Coming Up for Air", was originally published in 1939 and was reviewed by PATHFINDER MAGAZINE to mark the occasion of the book's first American printing in 1950.
''STAY HOME!'' (Hollywood Magazine, 1929)
"The advent of talking pictures has enormously increased the number of those who vision a fairyland of fame and fortune if they can only reach Hollywood... Rumor had it that voice was important for the new Talkies, and every female whose misguided family had 'cultivated' Mamie's vocal resources, usually without the faintest reasonable excuse, realized where her destiny lay. The rush was on... Several organizations in Hollywood find it possible to send girls back home before the tragedy point is reached... Periodically the Hollywood Chamber of Commerce broadcasts warnings".
''The Attack of the Super Novelists'' (Vanity Fair, 1919)
In this article, P.G. Wodehouse (1904 - 1975) sounded-off on a new type of novelist that had surfaced in 1919 - and has yet to decamp. He breaks the novelizing classes into two groups:

"...the ordinary novelist, the straightforward, horny-handed dealer in narrative, who is perfectly contented to turn out two books a year, on the understanding - a gentleman's agreement between himself and his public - that he reserves movie rights and is allowed an occasional photograph in the papers.."
4-F Guy Mops the Floor with Three GIs (Yank Magazine, 1944)
"Classified as 4-F, Edwin Taylor of Belleville, Illinois, was enraged when four GIs kidded him by singing a song about 4-Fs..." he sent two to the hospital and the other soldiers are still running today.
1940s Makeup and W.W. II (Click Magazine, 1942)
Illustrated with over eleven pictures of the most popular American beauty aids used throughout the Forties, this is an interesting look at how the Second World War effected the U.S. cosmetic industry and how that same industry benefited the American war effort. Students of history will be reminded that when a nation commits itself to a state of total war, all available elements within a government's grasp will be picked over by that country's military; even makeup.

"If you're following a routine of 'beauty as usual' with qualms of conscience, believing that cosmetics and toiletries use materials essential to the war machine, know for certain that if Uncle Sam needed your lipstick for bombs and bullets, he'd have gotten it first."

The U.S. cosmetics industry was effected in many ways, read the article and find out.

Click here to read a 1954 article about Marilyn Monroe.
An Army of Juan (Yank Magazine, 1944)
Some have said that America's first introduction to Latin culture came with "Ricky Ricardo"; others say Carmen Miranda, Xavier Cugat, Charo or "Chico and the Man". The dilettantes at OldMagazineArticles.com are not qualified to answer such deep questions, but we do know that for a bunch of unfortunate Nazis and their far-flung Japanese allies, their first brush with "la vida loco Latino" came in the form of Private Anibal Irizarry, Colonel Pedro del Valle and Lieutenant Manuel Vicente: three stout Puerto Ricans who distinguished themselves in combat and lived to tell about it.

Click here to read an article about Latinas in the WAACs.
Towards a Nuclear Strategy (Pathfinder Magazine, 1949)
Here is the "Pathfinder Magazine" article about Air University; established in 1946 by the U.S. Department of War in order to train senior American Air Force officers to serve as strategic thinkers in the realm of national security. In 1949 that meant conceiving of ways to implement a successful strategy in which the Soviet Union would be defeated with nuclear weapons:

"At AU's apex is the Air War College. To its senior officer-students the question of destroying an enemy's will to resist is grimly real. Killing ten million citizens of an enemy nation is no haphazard problem to the Air War College. In the statistics of modern war, a loss of approximately 4% of a nation's population saps its will to resist..."

Six months after this article was first read, the Soviets tested their first Atomic bomb; click here to read about that event.
Did You Not See Your Search Article On This Page?
The Subject You Are Seeking Is On This Site,
It Has Simply Been Removed From This Page.
Please Use This Search Engine To Locate It.
Loading Search Engine