Recently Added Articles
Click here to be notified when articles
are added to your favorite categories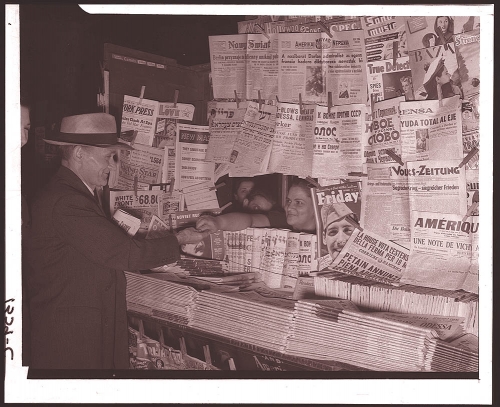 The Damage of Prohibition (The Smart Set, 1921)
Attached is an editorial that was co-authored by George Jean Nathan and H.L. Mencken from their reoccurring column in THE SMART SET: "Répétition Générale". This short columnists sought to expose the damages inflicted upon the country by the "guardians of the national virtue" and their bastard children, Prohibition and the Volstead Act, which will primarily serve to promote the wide (though illegal) distribution of all the poorest distilled spirits concocted in the most "remote frontiers of civilization".
The Missing Confederate Gold (Literary Digest, 1912)
For many it will come as no surprise that the Confederate States of America entered it's twilight with the same hubris and cupidity that gave it life. This 1912 article solved a mystery: what had become of the gold and silver from the vaults of the CSA when it finally became clear to all that the rebellion was over.

Click here to read a memoir of the Union victory parade in 1865 Washington.
The Red Cross Dogs (Literary Digest, 1917)
"There are canine sentries on duty on both sides in the Great War, and dogs that are dispatch-bearers. "Marquis", a French dog, fell from a bullet-wound almost at the feet of a group of French soldiers to whom he bore a message across a shell-raked stretch of country. But the message was delivered!"
German Boy Soldiers in Captivity (Yank Magazine, 1945)
A fascinating article reporting on "the Baby Cage", the Allied prisoner of war camp that held some 7,000 boy soldiers of the German army, ages 12 through 17.

In light of the fact that so manyGerman youths had been indoctrinated from their earliest days in Nazi dogma and then dumbfounded to a far greater degree within the Hitler Jugend system, the Allied leadership post-war government believed that this group needed to be instructed in the ways of tolerance before being let loose into the general population.

Click here to read about the Nazi indoctrination of German youth.
Fact and Fiction About Submarines (Yank Magazine, 1943)
This article,'Blow It Out of Your Ballast Tank' was penned by Marion Hargrove and cartoonist Ralph Stein in order to clear away some of the Hollywood blarney and set the record straight about the W.W. II submarine duty in the U.S. Navy:

"To read articles about submarines, you'd think they were about as big as a small beer keg, and that the men worked curled around each others elbows. To see submarine movies, you'd think the sailors spent their time bailing water, gasping, sweating, hammering on jammed doors and getting on each other's nerves."

"This is really a lot of Navy propaganda, designed to keep surface fleets from being stripped of their personnel by a rush of volunteers for submarine duty."

Click here to read about a Soviet submarine called the S-13...
Jacob Epstein: Firebrand of Art (Vanity Fair, 1915)
"Jacob Epstein was brought up in the city of New York, being one of a group of young men from the other side of the Bowery, some of whom have since become well known in the arts."

Attached is a photograph of the American expatriot sculptor Jacob Epstein and three of his pieces. This is a short notice heralding the great splash that the artist was making in the London art world of 1915. Although his work can be found in many of the world's finest museums, Epstein is best remembered today for his creation of the monumental sculpture that marks the grave of Oscar Wilde.
Krazy Kat: Low Art Meets High Art (Vanity Fair, 1922)
At the very peak of bourgeois respectability, one of the high priests of art and culture, Gilbert Seldes (1893 - 1970), sat comfortably on his woolsack atop Mount Parnasus and piled the praises high and deep for one of the lowest of the commercial arts. The beneficiary was the cartoonist George Herriman (1880 – 1944), creator of Ignatz Mouse and all other absurd creations that appeared in his syndicated comic strip, "Krazy Kat" (1913-1944):

"His strange unnerving distorted trees, his totally unlivable houses, his magic carpets, his faery foam, are items in a composition which is incredibly with unreality. Through them wanders Krazy, the most tender and the most foolish of creatures, a gentle monster of our new mythology."
Tristann Tzara on Dada (Vanity Fair, 1922)
An essay by one of the founders of Dada, Tristan Tzara (Sami Rosenstock a.k.a. Samuel Rosenstock; 1896 – 1963), who eloquently explains the origins of the movement:

"Dadaism is a characteristic symptom of the disordered modern world..."
''Lady Macbeth of Mzensk'' by Dmitri Shostakovich (Literary Digest, 1935)
"The Cleveland Orchestra, on February 5 [1935], with Arthur Rodzinski conducting, will introduce to New York 'Lady Macbeth of Mzensk', an opera by twenty-eight year-old Soviet composer, Dmitri Shostakovich."

"Shostakovich completed the work in December, 1932. It is the first of a projected cycle of four operas in which the composer plans to trace the condition of women in Russia..."
George Gershwin: Tin Pan Alley and Beyond (Magazine of Art, 1937)
An interesting two page article about George Gershwin (1898 - 1937), written within days of his death and filled with fascinating bits about his career, education and his instant popularity:

"The Gershwin invasion of Tin Pan Alley came at a time when history was being made. The Broadway-Negro tradition that stemmed from Stephen Foster and the anonymous tune-smiths who wrote old minstrel shows, was being carried on by bards like Paul Dresser, Harry von Tilzer, and the amazing Witmark family. Jerome Kern and Irving Berlin labored in the Alley cubicles. Something called ragtime was in the air and jazz was about to be born."
Did You Not See Your Search Article On This Page?
The Subject You Are Seeking Is On This Site,
It Has Simply Been Removed From This Page.
Please Use This Search Engine To Locate It.