Recently Added Articles
Click here to be notified when articles
are added to your favorite categories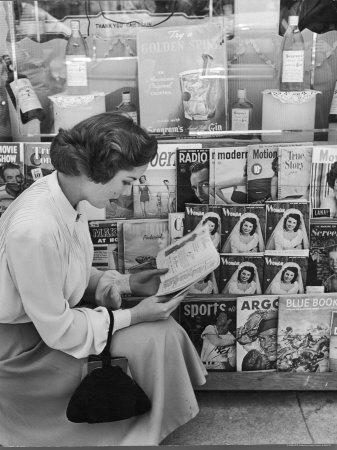 Starlet Colleen Townsend ...
How a Southerner Overcame his Racist Past (Coronet Magazine, 1948)
The attached is an historic article that explains the lesson that so many white Americans had to learn in order that America become one nation, indivisible, with liberty and justice for all.

This long anticipated confession is only three pages long, but it took centuries to write and its author, who described himself as just a "Southern [white], reared in the common tradition" lucidly explains the steps that had to be made in order that he earn his "initiation into human decency".

There can be no doubt that many ragged, dog-eared copies of this middle class magazine must have been passed from seat to seat in the backs of many buses; perhaps one of the readers was a nineteen year-old divinity student named Martin Luther King?
The Start of the Korean War (Quick Magazine, 1950)
On June 25, 1950 ten divisions of North Korean infantry invaded South Korea. In its narrowest sense, the invasion marked the beginning of a civil war between peoples of a divided country. In a far larger sense, it represented a break in tensions between the two dominant power blocs that had emerged from the Second World War.

This well-illustrated article appeared on the newsstands two weeks after the hostilities commenced and serves to summarize the events in Washington and at the United Nations. Within the first twelve hours of the war President Truman committed U.S. air and naval forces to the defense of South Korea and signed a bill to widen the draft pool. Apprehension soon spread that a Soviet invasion of the American West Coast was a possibility; assorted U.S. cities re-instituted their civil defense organizations and some measure of comfort was found in the fact that an H-Bomb could be manufactured within a year.
Leopard and Zebra Prints Become the Thing, Again (Quick Magazine, 1954)
Two years before this article went to press, some Delphian at QUICK MAGAZINE scribbled these words:

"Expect fashion designers to jump on the African trend in literature and entertainment. Examples: four new African films (Cry the Beloved Country
, The Magic Garden
, "Latuko" and The African Queen
) to be followed by a Walt Disney African wildlife film."
- next thing you know, down fashion's runways sashay the teen waifs - all clad as if they were the striped and spotted beasts who prance upon the Serengeti Plain.
French Women and American Soldiers (The Spiker, 1919)
At the end of the First World War, the young women of France were asked the question:

"Who would you choose for a husband, a Frenchman or an American? And what are the qualities and faults which justify your preference?"

Some of the answers were pretty funny (especially the responses made by the irate Frenchmen returning from the Front). After all the votes were tallied, it was discovered that, regardless of their "gold teeth", "big tortoise shell glasses" and shaved faces, the Doughboys were able to charm as much as a quarter of the women asked (which was a good deal better than they thought they would do) Some women, however, were not very impressed.

Click here to read an article about social diseases within the A.E.F..

Click here if would like to read about British Women and American G.I.s during the Second World War...
Sex During the Second World War (Coronet Magazine, 1955)
"At the beginning of World War II, our army was a mixture of callow boys and and domesticated men. The older men were homesick for wives and children, the younger men felt themselves on the verge of an adventure they didn't quite understand. While most were unsure of themselves, their need for women was painfully apparent...There were plenty of lonely wives, too, and it soon became evident that a fair number of them were committed to the belief that continence was bad for women."

Read this post-war article that very clearly confirms that it was the Second World War that provided the sexual charge to the American landscape. A 1946 study indicated that an unprecedented 60 percent of American brides were non-virgins when they stood at the alter that year: click here.
Lucille Ball (Pic Magazine, 1940)
Among all the many lovelies who resided in the Hollywood of 1940, the wide-awake editors of PIC MAGAZINE singled-out Lucille Ball (1911 – 1989) as the one to watch:

"Barring accidents, Lucille Ball tomorrow will occupy the spot now disputed by Carol Lombard, Joan Crawford and Ginger Rogers - as First Lady of Hollywood. Lucille deserves to get it and she has what it takes to get there. The red-headed ex-chorus girl has talent, ability looks, personality and willingness to take every punishment on her way up."

"And Lucille is taking a beating. Nominally called a star, through the casual generosity of her studio, she rates as a Grade-B actress. The Inner Sanctum of Hollywood, producers, directors and actors, dismiss her as a nobody, except for a few who believe in her. She gets the brush-off as 'another glamour girl' or 'that wacky comedienne.' She is condemned to the chain-gang of half-a-dozen 'B' films a year, with days of hard work posing for gag leg art sandwiched between pictures, to get the money's worth out of her minor-league salary."

The article is illustrated with 14 images.
The Infidelity Detective (People Today, 1953)
To be sure, the creation of the internet has made the quality of our lives a bit better. However, given the fact that Facebook is mentioned in one third of all divorce cases - who would have guessed that the two groups who have benefited the most from the onslaught of the digital era would be divorce lawyers and private investigators who specialize in wayward spouses?

As a point of interest, you might be keen to learn that the term "faithful spouses" is fed into Google 170 times every month, while "cheating spouses" is queried 301,000 times within that same period. Likewise,
"is he cheating": 90,500
"how to cheat on my husband": 22,200.

And this is where we commence our segue to this well-illustrated article that tells the story of Bernard Laker, a private investigator from the pre-computer age whose detective skills were steadily relied upon by numerous women who held their husband's fidelity in serious doubt.
Bettie Page & Bunny Yeager (People Today Magazine, 1955)
A 1955 photo-essay about Bunny Yeager
, the first American pin-up model to grab a camera and achieve some measure of success in the low-fashion world of cheesecake photography.

Working in the city of Miami, Yeager quickly found that she was the preferred photographer for many a model - all feeling secure in the knowledge that they would be safe from any inappropriate advances. Among these models was a lass whose greatest fame would arrive with the digital age: Bettie Page (1923 – 2008). When these six pics of Page were snapped, the two had been working steadily for the past year. It was Yeager who famously provided PLAYBOY MAGAZINE
with the image of Page wearing only a Santa hat for their 1955 Playmate of the Month centerfold.
The Reformed South Korean Military (Pathfinder Magazine, 1952)
By the close of 1952 it became evident to anyone who followed the events in Asia that the army of the Republic of Korea (ROK) had evolved into a competent and reliable fighting force; highly disciplined and well-lead, it was finally able to both take and hold ground while simultaneously inflicting heavy casualties on their the enemies. Gone from the mind was that South Korean army of 1950: that retreating mob that quickly surrendered their nation's capital to the on-rushing Communists just three days into the war, leaving in their wake a trail of badly needed equipment.

After a year and a half of the most vicious combat, the ROK Army put in place the badly needed reforms that were demanded if the war was to be won. Relying on their own combat veterans as well as their United Nation's allies, recruits were clearly schooled in what was required to survive in battle. As relieved as the many Western commanders were to see how effectively the South Koreans were able to create such a force, the liabilities of this army were still genuine and they are listed in this article as well.
The James Agee Review of 'It's A Wonderful Life' (The Nation, 1947)
James Agee, the film reviewer for THE NATION (1942 - 1948), was charmed by the warmth of It's a Wonderful Life
and believed that it was an admirable and well-crafted piece of film making; he nonetheless came away feeling like he'd been sold a bill of goods and rejected the movie primarily because he believed that films created in the Atomic Age should reflect the pessimism that created the era:

"Yet at its best, which is usually inextricable with its worst, I feel that this movie is a very taking sermon about the feasibility of a kind of Christian semi-socialism, a society founded on affection, kindliness, and trust, and that its chief mistake or sin --an enormous one--is its refusal to face the fact that evil is intrinsic in each individual, and that no man may deliver his brother, or make agreement unto God for him."

This article appears on this site by way of a special agreement with The Nation.
Did You Not See Your Search Article On This Page?
The Subject You Are Seeking Is On This Site,
It Has Simply Been Removed From This Page.
Please Use This Search Engine To Locate It.