Recently Added Articles
Click here to be notified when articles
are added to your favorite categories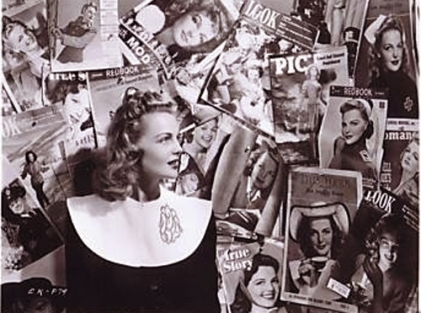 How the Academy Award Got Nicknamed 'Oscar' (Stage Magazine, 1938)
If you've been wondering how the Academy Awards came to be known more popularly as "Oscar" and you think that the answer simply has to be bathed in an endless amount of "Hollywood Glamour", involving a boat-load beautifully tailored, charming and overly talented matinee idols, you'd better hit the 'ol back browser button now.
Social Issues in Movies (Stage Magazine, 1938)
Aren't you tired of Hollywood's socio-political rantings?

•Nuclear power................They're against it ("The China Syndrome").
•Antisemitism...................They're against it ("Gentleman's Agreement").
•Alcoholism......................They're against it ("Lost Weekend").
•Racial segregation...........They're against it, but in 1915 they were for it ("Birth of a Nation").

One glance at this 1939 article and you'll be able to blame it all on the poet Archibald McLeish (1892 – 1982) who clearly advocated for political posturing in American movies.

No doubt, McLeish must have been very happy when Warner Brothers released Confessions of a Nazi Spy in April of 1939; it was the first Hollywood film to take a swipe at the Nazi war machine.
''The Thin Man'' (Stage Magazine, 1937)
Attached is an article by "One Take Woody" (Woodbridge Strong Van Dyke, Jr. 1889 – 1943) on the topic of the two Thin Man films he had directed:

"Looking back into the infinite past, I seem to recall that a certain motion picture was made and that I had something to do with it. It stirs restlessly in my memory, for it was immediately seized by the theater public as a new cycle in screen entertainment. In Hollywood, things are often done in cycles - gangster cycles, G-man cycles, historical romances, sea stuff,even Shakespeare. Somebody starts it and others fall in line to catch the shekels that bounce to the floor after the first jack pot."

Click here to read an article about Dashiell Hammett.
The Marx Brothers & the Joke Development Process (Stage Magazine, 1937)
A late Thirties article by Teet Carle (the old publicist for MGM) on how the brothers Marx figured out which gag created the biggest laughs; a few words about how the movies were tested in various cities prior to each release and how assorted jokes were recited to all manner of passersby for their effect.

Click here to read a 1951 article that Harpo Marx wrote about Groucho.
''The Grapes of Wrath'' (Click Magazine, 1940)
The attached article is illustrated with three color photos from the set of the movie, this short article details why THE GRAPES OF WRATH (Twentieth Century Fox, 1940) was such a different movie to come out of Hollywood and explains how thoroughly both the art and costume departments were in their research in depicting the migrant "Okies" in their Westward flight:

"Realism, keynote of the book, was the keynote of the picture. Henry Fonda, who plays Tom Joad, lived for weeks among the Okie farmers from Oklahoma to understand their problems..."

Click here to read a 1935 article about the real Okies.

Perhaps Steinbeck saw this 1938 photo-essay while writing his novel?
An Observer on the Russian Front (Collier's Magazine, 1945)
During the late war period, leftist playwright Lillian Hellman (1905 – 1984), was twice denied permission to travel to war-torn Britain on the grounds that she had been recognized as an active communist. Yet, ironically, those same pencil-pushers in the State Department turned around a few months later and granted her a passport to visit the Soviet Union in August of 1944 - as a guest artist of VOKS, the Soviet agency that processed all international cultural exchanges. It was during this visit that she penned the attached eyewitness account of the Nazi retreat through Stalin's Russia:

"Five days of looking out of a train window into endless devastation makes you sad at first, and then numb. Here there is nothing left, and the eye gets unhappily accustomed to nothing and begins to accept it..."

Click here to read a 1939 STAGE MAGAZINE profile of this writer.
Ezra Pound of Indiana (Click Magazine, 1942)
CLICK MAGAZINE's illustrated article about the sedition of American poet Ezra Pound is peppered throughout with assorted quotes that clearly indicate the man's guilt. The reporter, David Brown, went to some length in explaining what an odd life decision this was for a poet with such a celebrated past to make - a decisions that ultimately lead to his conviction in Federal Court, followed by his twelve year incarceration in a mad house.

In an effort to understand Pound's thinking, we have included excerpts from a Wall Street Journal book review of a 2016 Pound biography that presents the poets queer rational.
Eric Satie Goes After the Critics (Vanity Fair, 1921)
There is little doubt that the French Composer Eric Satie had wished that the bellyaching dilettantes who were charged with the task of writing music reviews for the Paris papers had spent more time in school in order that they might show greater erudition in their writings. However, Satie recognized that we can't change the past and so he took his critics out to the woodshed with this satirical column for VANITY FAIR MAGAZINE:

"The mind of a critic is a store - a department store:
One finds in it a little of everything: science, bedding, the arts, traveling rugs, writing paper (foreign and domestic), history, smokers outfits, languages, umbrellas, belles-letters, humour, eyeglasses, perfumery, etc...
The Critic knows everything."
The Oscars: Hollywoods Self-Adoration Fest (Stage Magazine, 1938)
A tongue-in-cheek magazine article from 1938 about The Academy of Motion Picture Arts and Sciences and their annual gala devoted to over-confidence, "the Oscars". Written eleven years after the very first Academy Award ceremony, and published in a magazine that catered to New York theater lovers, the article was penned by an unidentified correspondent who was not very impressed by the whole affair but managed to present a thorough history of the award nonetheless.

Director Frank Capra was awarded his third trophy at the 1938 Oscars...
World War Two Hollywood (Yank Magazine, 1945)
The attached article is a swell piece of journalism that truly catches the spirit of home front America. You will read about the war-weary Hollywood that existed between the years 1941-1945 and the movie shortages, the hair-pin rationing, the rise of the independent producers and the ascent of Van Johnson (4-F slacker) and Lauren Becall:

"Lauren, a Warner Brothers property, is a blonde-haired chick with a tall, hippy figure, a voice that sounds like a sexy foghorn and a pair of so-what-are-you-going-to-do-about-it eyes"
Did You Not See Your Search Article On This Page?
The Subject You Are Seeking Is On This Site,
It Has Simply Been Removed From This Page.
Please Use This Search Engine To Locate It.
Loading Search Engine