Recently Added Articles
Click here to be notified when articles
are added to your favorite categories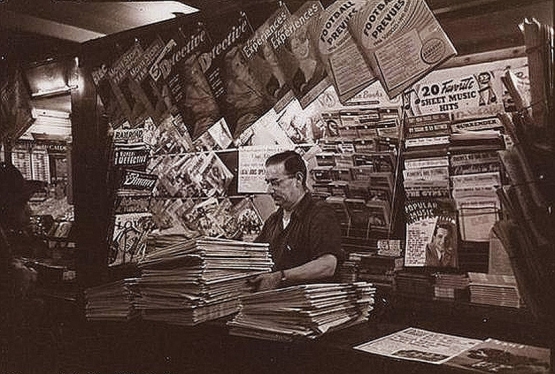 ''Soldier Man Blues'' (Literary Digest, 1927)
This article is essentially a collection of lyrics from an assortment of songs sung by the Black Doughboys who were charged with the task of loading and unloading trucks far behind the front line trenches. It was written in 1927 to serve as a review for Singing Soldiers
by John J. Niles, who compiled the labor songs while stationed in France as a fighter pilot:

"All dese colored soldiers comin' over to France

All dese soldiers an' me

Goin' to help de Whites make de Kaiser dance

All dese soldiers an' me..."


To learn how many African_Americans served in the W.W. I American Army, click here.
The Lady was a Spy (Coronet Magazine, 1954)
During World War II many women played roles as daring and courageous as were required of any man. This is the true story of one such woman, who gambled her life to help the Allies win the final victory in Europe.

"...I began my mission in wartime France as a British secret agent. Colonel Maurice Buckmaster had told me what my assignment was:"

"You will parachute into France with a wireless operator and a demolition specialist. The drop will be 40 miles from Le Mans, where Rommel's army is concentrated..."

Click here to read about the women who spied for the Nazis during the Second World War.
Those Who Inspired Mark Twain (American Review of Reviews, 1910)
This is a brief look at the up-bringing of Mark Twain (born Samuel Langhorne Clemens, 1835 - 1910), accompanied by two 1910 magazine photographs of the people who inspired the writer to create "Becky Thatcher" and "Huckleberry Finn". Also interviewed was the the man who instructed the author in the skills required to pilot the Mississippi River.

The historian Henry Steele Commager chose to rank Mark Twain at number 4 insofar as his impact on the American mind was concerned - click here to understand his reasoning (does this still hold true?)...
The Films of the U.S. Army Signal Corps (Click Magazine, 1943)
An article from CLICK MAGAZINE designed for civilian consumption concerning the U.S. Signal Corps and their efforts to film and photograph as much of the war as was possible in order that the brass hats far off to the rear could sit comfortably and understand what was needed. The article is illustrated with six war photographs and the captions explaining what information was gleaned from each:

"Every detail of these films is scrupulously studied by a group of experts, officers and engineers representing the Army Ground Force, the Navy, the Marine Corps, the Army Air Corps, the Signal Corps the Armored Forces, the Quartermaster Corps and other military units. Naturally, these services are interested in different sections of every film. To facilitate their studies, a device known as the Multiple Film Selector is used."

The Signal Corps Movies of World War I were intended for different uses...
Hermann Goering: Power Hungry Graff Master (Click Magazine, 1943)
Appearing on the pages of a 1943 CLICK MAGAZINE was this article by Austrian journalist Alfred Tyrnauer, who was no stranger to Nazi terror. The journalist explained quite clearly for his American readers who exactly Hermann Goering was, his shameless looting in all Nazi-occupied zones and the goings-on within "Goering Works", the German re-armament trust.

"Master crook, blackmailer and general villain Reichsmarshal Hermann Wilhelm Goering, second most potent Nazi, 'owns' the world's largest industrial empire by right of possession. Gross Goering has stopped at nothing, not even murder, to enrich himself and insure his future comfort, whether the Nazi regime stands or falls."
An Army of Juan (Yank Magazine, 1944)
Some have said that America's first introduction to Latin culture came with "Ricky Ricardo"; others say Carmen Miranda, Xavier Cugat, Charo or "Chico and the Man". The dilettantes at OldMagazineArticles.com are not qualified to answer such deep questions, but we do know that for a bunch of unfortunate Nazis and their far-flung Japanese allies, their first brush with "la vida loco Latino" came in the form of Private Anibal Irizarry, Colonel Pedro del Valle and Lieutenant Manuel Vicente: three stout Puerto Ricans who distinguished themselves in combat and lived to tell about it.

Click here to read an article about Latinas in the WAACs.
Marijuana in the Thirties (Literary Digest, 1938)
During the closing days of 1937, Clarence Beck, Attorney General for the State of Kansas made a radio address on the Mutual Broadcasting System concerning the growing popularity of Marijuana:

"It Is estimated the Narcotic Bureau of the New York Police Department in 1936 alone destroyed almost 40,000 pounds of marijuana plants, found growing within the city limits. Because of its rapidly increasing use, Marijuana demands a price as high as $60 a pound." (continued)

Click here to read a 1930s magazine article about Mexican Dope smuggling.
Who are the U.S.Marines? (Click Magazine, 1943)
A nice piece of P.R. for the W.W. II Gyrenes:

"Since the policy limits Marine Corps personel to 20 percent of the navy, no Marine can specialize as do other service men. He must be a crack rifle and pistol shot, a saboteur, a scout familiar with jungle and city alike. He must run, walk, swim, sail, shoot, and maim better than the men he's fighting... He glories in this responsibility, as in his corp's 167-year-old reputation as nonpareil shock troops. He's never yeilded either that responsibility or reputation to his jealous friends in rough-and-ready Army and Navy units. They resent the Marine. He knows it and doesn't give a damn, cocky in the knowledge that he's relied on to pave the way for the Army's operations and to finish up the Navy's."

This is a six page photo-essay that is comprised of seventeen images (two in color) of the San Diego Marines, who are identified as the "dirtiest" and "cockiest" fighters in the nation's arsenal.

Click here to read another article about the Marines.
The Pin-On Hairdo: White Trash Triumph (Click Mahazine, 1943)
In light of the fact that we are patriots, we like to think that these hairdos were not as wide-spread on the home front as the journalist implies.

Michel, of the Helena Rubinstein salons, has been fingered as the one responsible for the two-tone "pin-On" hairdo, a look that was entirely reliant upon the false hair industry in order to achieve the preferred look. Three color images are provided as well as six "how-to" images.

During the Second World War, hair dye was not simply used by women; click here to read about the men who needed it.

Click here to read a 1961 article about Jacqueline Kennedy's influence on American fashion.
The Woman Who Didn't Want to Dress Like Jackie Kennedy... (Coronet Magazine, 1961)
This unique (and thankfully humorous) voice lets us know how widespread "The Jackie Look" was in the America of the early sixties - but she will have non of it:

"I am accepting all offers - including Confederate money - for my Jackie Kennedy wardrobe of sleeveless 'avant-garde' dresses and pill-box hats. I'll even throw in a necklace or three of pearls. If you insist, and I hope you do, I'll also add my French cookbook and my water-color set... I have had it. I just don't want to look like Jackie Kennedy. The competition is becoming far too keen."

We recommend: Jackie Style
Did You Not See Your Search Article On This Page?
The Subject You Are Seeking Is On This Site,
It Has Simply Been Removed From This Page.
Please Use This Search Engine To Locate It.
Loading Search Engine