Recently Added Articles
Click here to be notified when articles
are added to your favorite categories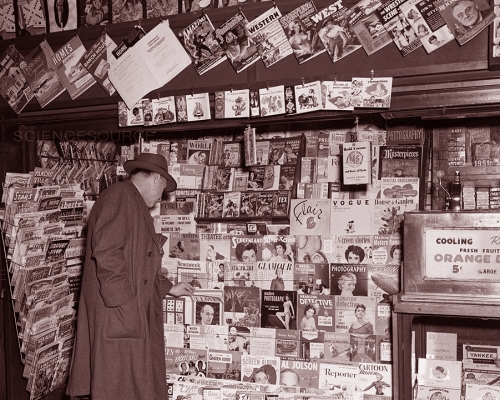 As Europe Saw America in the War's Aftermath (The Smart Set, 1921)
H.L. Mencken and George Jean Nathan, editors of The Smart Set, surmised that as the Europeans bury their many dead among the damp, depressing ruins of 1920s Europe, America is neither admired or liked very much:

"...the English owe us money, the Germans smart under their defeat, the French lament that they are no longer able to rob and debauch our infantry."
Carl Sandburg on Charlie Chaplin (Vanity Fair Magazine, 1922)
This poem was submitted to the Vanity Fair editors by an obscure film critic named Carl Sandburg (1878 – 1967):

"The room is dark. The door opens. It is Charlie
playing for his friends after dinner, 'the marvel-
ous urchin, the little genius of the screen...'"

Between the years 1920 - 1928, Sandburg served as the film critic for the Chicago Daily News.
The Back-Hand from a Flapper (Flapper Magazine, 1922)
Flapper Magazine crowned itself the

"official organ of the national flapper's flock"

If nothing else, this verbiage simply spells out that the editors took themselves very, very seriously indeed and it was in that same spirit they gleefully went to work disemboweling a movie that they saw as anti-flapper to its very core. The film in question was "Nice People (Paramount, 1922) starring Bebe Daniels and Wallace Reid. Produced by Willam C. deMille (1878 – 1955), elder brother of Cecil, the film makers were clearly intimating that "nice people" will always keep their flapper daughters in line; it is at that point in the flick when the reviewer dipped her pen in the ink:

"This is one of the themes that 'old fogies' usually delight in; the 'reformation' of the flapper... The picture is replete with pithy subtitles, such as 'the smart girl of today removes the rouge from her lips only to kiss and make up.'"
The Common Sense of the Flappers (Flapper Magazine, 1922)
Originally writing for the FORREST PARK REVIEW, Flapper advocate Myrtle Heilman (1895 - 1973) opined that the Flapper was the one and only topic of the day worth thinking about:

"Analyze her dress. It's the most sensible thing since Eve. She wears rolled socks and why shouldn't she? They are extremely cool and comfortable. Her toddle pumps are fairly low-heeled and she doesn't try to squeeze into a Cinderella. Her skirts are short because it's the fashion. Her bobbed hair is cool, sensible and sanitary. There is a twinkle in her eye and she has a saucy cock-sureness. And why shouldn't she?"

"She does respect her parents and she obeys them, just as well as her grandmother did hers, but she has common sense and she knows when it's time to use her own judgment and exercise her own authority".
Flappers Defy the Paris Dictators (Flapper Magazine, 1922)
"Will Paris succeed in imposing long skirts on the flappers of America?"

"Not if most of them have their way! When Paris started the short skirt fad and America eagerly aped it, the dressmakers figured that it would probably run its course and then die a sudden death. But no! For American flappers may be fickle but they know a good thing when they see it. And they intend to hang on to it."

Click here to read about another icon of the Twenties: Rudolph Valentino.
The Rise of Oral Roberts (Coronet Magazine, 1955)
The editors at CORONET recognized that Oral Roberts was not your average minister, who was simply contented to preside over thirty full pews every week; they labeled him a "businessman-preacher" and subtly pointed out that the man's detractors were many and his flashy attire unseemly for a member of clergy:

"God doesn't run a breadline...I make no apology for buying the best we can afford. The old idea that religious people should be poor is nonsense."
The Passing of an Era (The Nation, 1922)
British Foreign Secretary Sir Edward Grey (1862-1922) was quicker than most of his contemporaries when he recognized what was unfolding in Europe during the August of 1914, and uttered these prophetic words:

"The lamps are going out all over Europe; we shall not see them lit again in our lifetime."

The anonymous old wag who penned this opinion column came to understand Gray's words; four years after the war he looked around and found that the world speeding by his window seemed untouched by the heavy handed Victorians. For this writer, the Victorian poet and writer Matthew Arnold (1822 - 1888) represented the spirit of that age and it all seemed to come crashing down in 1922:

"Granting that the son of Arnold of Rugby was more troubled over the decay of Christian dogma than we are, it should be remembered that the decay symbolized for him a fact of equal gravity to ourselves -- the loss of a rational universe in which to be at home. But he never doubted how a new world was to be built -- by justice and by reason, not by claptrap and myth."
Who Was Wilde's "Dorian Gray"? (Vanity Fair Magazine, 1919)
One writer's reminiscence of attending a London party and being introduced to Oscar Wilde (1854 - 1900) and the object of his affection, John Gray. The author insists, as has been documented in other places, that Gray was the model for Wilde's character "Dorian Gray":

"Once at a Private View in the New Gallery, as I came downstairs, I came on Wilde, in the midst of his admirers, showing more than ever his gift of versatility. Seeing me he made a gesture, and as I went up he introduced me to John Gray, then in what is called 'the zenith' of his youth. The adventure was certainly amusing..."

An additional article about Wilde can be seen here.

Click here to read a 1940s article about American sodomy legislation.
''Thanks, America'': A French Expression of Gratitude (American Legion Monthly, 1936)
Almost twenty years after the First World War reached it's bloody conclusion, Americans collectively wondered as they began to think about all the empty chairs assembled around so many family dinner tables, "Do the French care at all that we sacrificed so much? Do they still remember that we were there?" In response to this question, an American veteran who remained in France, submitted the attached article to The American Legion Monthly and answered those questions with a resounding "YES".

Click here to read an article by a grateful Frenchman who was full of praise for the bold and forward-thinking manner in which America entered the First World War.
P.G. Wodehouse: Master of American Slang (American Legion Weekly, 1919)
At the time this profile first appeared in 1919, P.G Wodehouse (1904 - 1975) had recently resigned his post as the drama critic for Vanity Fair in order to realize his ambitions as a novelist and playwright. This article revealed to all Wodehouse's keen interest in American slang and American comic strips.
Did You Not See Your Search Article On This Page?
The Subject You Are Seeking Is On This Site,
It Has Simply Been Removed From This Page.
Please Use This Search Engine To Locate It.