Recently Added Articles
Click here to be notified when articles
are added to your favorite categories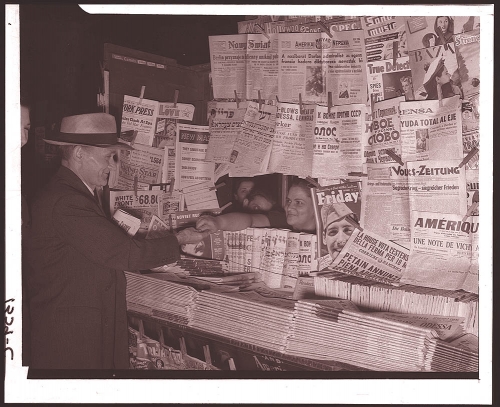 The Klan as a National Problem (The Literary Digest, 1922)
A two page article reporting on the growth of the KKK throughout the United States in the early Twenties, it's general rise in popularity and the resolve of elected officials at both the state and Federal levels to contain the "Invisible Empire".

Interesting comments can be read by a reformed Klansman named H.P. Fry, who authored a cautionary memoir titled, The Modern Ku Klux Klan
.
Lynching as an Extension of Chivalry? (The New Republic, 1922)
This small column from the pages of THE NEW REPUBLIC reported that women from five Southern states had gathered together in 1922 intending to pass a set of resolutions that would remedy "one aspect of the Negro question" (an illusive phrase that meant "lynching"). The attached article remarked that these women

"...feel a deep sense of appreciation for the chivalry of men who would give their lives for the purity and safety of the women of their own race," yet "They wish to bring about a state of public opinion which will compel the protection and purity of both races."
Chicago Vaudeville Remembered (Stage Magazine, 1935)
American journalist and radio personality Franklin P. Adams (1881 - 1960) recalled the high-water mark of Chicago's Vaudeville (with some detail) for the editors of STAGE MAGAZINE, a witty and highly glossy magazine that concerned all the goings-on in the American theater of the day:

"They were Continuous Variety Shows. They ran - at any rate at the Olympic Theatre, known in Chicago as the Big O - from 12:30 p.m. to 11:00 p.m....While those days are often referred to as the Golden Days of Vaudeville, candor compels the admission that they were brimming with dross; that Vaudeville's standard in 1896 was no more aureate than musical comedy in 1935 is."

Click here to read a 1938 memoir by a Los Angeles 'Working Girl'.

Click here to read about a 1949 plan to bring Vaudeville back (it didn't work).
Charles Lindbergh: American Hero (Literary Digest, 1927)
"'Truth is stranger than fiction' is an old writer's saw that the pen plodders know and the general reader doubts. But that truth and fiction may be one and the same thing in comes to light in the story of Charles Lindbergh's flight. No fiction writer could have contrived a story more perfect and right in it's details...In a few short days an unknown lad has become the hero of the world. His name is on the lips of more people than any under the sun. His face etched in more minds than any living human. The narrative question of the story, 'Will he make it?' is on everybody's lips, from President to beggars."
''MY LIFE AS A PROSTITUTE'' (Ken Magazine, 1938)
"A prostitute, intrigued by the monotony of her customers' questions, talks straight about her job. The hours, earnings, hazards, pleasures, advantages, drawbacks, opportunities for promotion, etc."

"Get a kick out of it? Sure - why not? That is, at least once or twice a day. It all depends on the customer. With some people you just naturally click. However, if we take our work seriously we pretend we like it - a clientele is the thing...If it's a frowzy guy with buck teeth and B.O. we hustle him through as fast as we can and hope never to see him again."

Click here to read about prostitution in the 1950s.

Click here to read a news piece about a prostitution blackmail scam that the L.A. mobster Micky Cohen had going in 1949 Hollywood.
Seeing the ''Wonder Machine'' for the First Time... (Delineator Magazine, 1937)
This is one of the most enjoyable early television articles: an eye-witness account of one the first T.V. broadcasts from the R.C.A. Building in New York City during the November of 1936. The viewing was set up strictly for members of the American press corps and the excitement of this one journalist clearly could not be contained:

"In the semi-darkness we sat in tense silence waiting to see the premiere demonstration of television... Television! What would it be like?"
''My Friend Babe Ruth'' (Collier's Magazine, 1924)
1920s sportswriter Arthur Robinson wrote this profile of his pal Babe Ruth (1895 – 1948) for the editors of Collier's Magazine:

"For some years I have had a peculiarly intimate friendship with Babe Ruth...to the alternately and jeering millions who have watched this modern Beowulf at bat, driving out his smashes, it may have appeared that he was just a thick-skinned ballplayer, schooled to deafness on the field. The skin of my friend Babe Ruth is not thick."
Veronica Lake (Click Magazine, 1944)
The attached magazine article is a profile of Veronica Lake (1922 – 1973) who was characterized in this column as "an artist at making enemies.":

"One of the most acute problems in Hollywood is Veronica Lake. Where, and at what precise moment her time-bomb mind will will explode with some deviation from what studio bosses consider normal is an ever-present question. Hence, the grapevine of the movie industry always hums with rumors that unless Miss Lake 'behaves', she will no longer be tolerated, but cast into oblivion."

Her response was eloquent.
Meet Harry Hopkins (United States News, 1944)
This article makes it quite clear that Harry Hopkins (1890 – 1946) wore many hats in the administration of FDR. During the first five years of the New Deal he had the unique title "Special Assistant to the President", he not only wrote speeches for FDR - Hopkins also oversaw the goings-on at the Civil Works Administration (CWA), the Federal Emergency Relief Administration (FERA), and the Works Progress Administration (WPA). Between the years 1938 through 1940, he served as Secretary of Commerce and when the war came he supervised the Lend-Lease program, the Chairman of the Munitions Assignment Board and traveled frequently as the President's representative to Moscow and London.

Click here to read about another member of the "New Deal Brain-Trust"...
With the War Came Medical Innovations (Pageant Magazine, 1945)
Four years of global carnage did not simply usher in an era of more destructive weaponry for the inhabitants of Earth to ponder; it also gave cause for tremendous improvements in medical care. This 1945 article anticipated a much better world that would be created from the smoldering remains of Europe and Asia - a world that was better prepared to address the health requirements of the diseased and the burned. The medical advancements that were forged between the years 1939 through 1945 saw remarkable improvements in surgery and anesthesia and brought new light on how the medical establishment understood blood and the treatment of venereal disease.

CLICK HERE... to read one man's account of his struggle with shell shock...
Did You Not See Your Search Article On This Page?
The Subject You Are Seeking Is On This Site,
It Has Simply Been Removed From This Page.
Please Use This Search Engine To Locate It.