Recently Added Articles
Click here to be notified when articles
are added to your favorite categories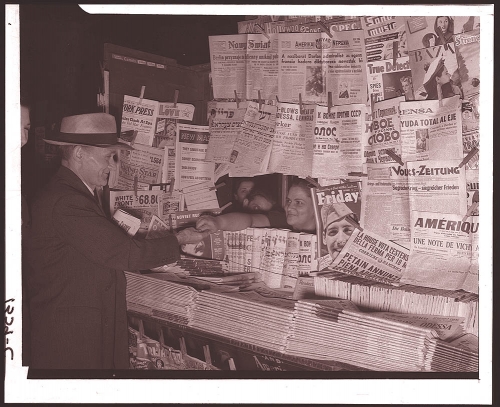 Excursions Into Hunland (Vanity Fair, 1918)
An American fighter pilot of the R.F.C., Lieutenant E.M. Roberts, gave this account of the deadly game of "Boche-hunting above the clouds":

"I noticed he was going down a little, evidently for the purpose of shooting me from underneath. I was not quite sure as yet that such was really his intention; but the man was quick...he put five shots into my machine. But all of them missed me."
"I maneuvered into an offensive position as Quickly as I could, and I had my machine gun pelting him...The Hun began to spin earthward."
American Arts and the Black Contribution (Literary Digest, 1917)
The attached column is an abstract of an article that first appeared in THE NEW YORK EVENING POST in 1917. The original article was penned by NAACP secretary James Weldon Johnson (1871 – 1938)

"I believe the Negro possesses a valuable and much-needed gift that he will contribute to the future American democracy. I have tried to point out that the Negro is here not merely to be a beneficiary of American democracy, not merely to receive. He is here to give something to American democracy. Out of his wealth of artistic and emotional endowment he is going to give something that is wanting, something that is needed, something that no other element in all the nation has to give."

Johnson was quick to point out that American popular culture was enjoyed the world-over and these dance steps and catchy tunes were not simply the product of the Anglo-Saxon majority.
Mickey Rooney, RIP (Collier's Magazine, 1940)
In 1940 Mickey Rooney (né Joe Yule, Jr.; b. 1920 - 2014) had replaced Shirley Temple as the number one box-office draw, after having steadily performed before the cameras from the age of six onward. Rooney had been jockeying for first place since he began playing the title roll in the "Andy Hardy" films just two and a half years earlier.

With the onslaught of the Second World War the sands of Hollywood shifted beneath his feet, creating a plethora of new stars and the need for different sorts of films - from that point on he only appeared in supporting rolls. In 1982 Rooney remarked:

"When I was 19 years old, I was the number one star of the world for two years. When I was 40, nobody wanted me. I couldn't get a job."
Women's Football (Click Magazine, 1940)
Attached is a brief photo-essay documenting the short-lived experiment with women's football in California:

"Anything can and does happen in California, the proving ground for all sorts of fads and fancies. The latest craze sweeping the land of the Ham-and-Eggers is girl's football. Discarding their all-revealing bathing suits, Hollywood and Los Angeles lassies have taken to padded moleskins, hip pads, shoulder pads, head gears and rubber-cleated brogans. The transition from beach nymph to gridiron amazon is called a revolution against "oomph" in the capital of streamlined pulchritude...regardless of what is said, powder-puff football seems destined to stay."
The Soviets Get the Bomb (Pathfinder Magazine, 1949)
A news column that is appropriately drenched in the gravitas of the day because it announced that the short-lived age of "atomic security" that brought W.W. II to a close had come to an end. A new epoch had arrived at 11:00 a.m., September 23, 1949, when President Harry Truman announced

"We have evidence that within recent weeks an atomic explosion occurred in the USSR."

With nuclear bombs must come a nuclear strategy:
click here to read about that...
The Twilight of Segregated Baseball...(People Today Magazine, 1951)
An anonymous scribe at PEOPLE TODAY wrote this well-illustrated piece to mark the occasion that heralded the end of the Negro Baseball League - and the integration of major league baseball in America.

Click here to read a 1954 article about Willie Mays.
The State of Women's Suffrage in 1907 (Harper's Weekly, 1907)
This 1907 article refers to a report made by journalist and suffragist Ida Husted Harper (1851 - 1931), concerning the status of the suffrage movement as it could be found throughout the Western world. A number of interesting issues and seldom remembered concerns are sited throughout this article on the matter of the bullying and boorish ways of those wishing to hamper the advancement of women's suffrage.
Three Collections of War Poetry Reviewed (The Independent, 1919)
A review of three volumes of World War One poetry: "From the Front"
edited by Lt. Clarence Edward Andrews (dates?), "Songs From The Trenches" by Herbert Adams Gibbons (1880-1934) and Robert Graves' (1895–1985) "Fairies and Fusiliers".
''Why I Live in Paris'' by a Former American Soldier (American Legion Monthly, 1927)
This article is titled "Why I live in Paris" and I simply adore it. The piece was penned by an anonymous expatriate, a former American soldier of the Great War who went into some detail comparing life in 1920s Paris to the life he knew in America, and he is quite funny about it. He described a Paris that Hemingway, Stein and Fitzgerald didn't talk about, and since expatriates have essentially foreign souls, I posted it in this section:

"Back in America I sincerely thought that my hometown had the worst telephone system in the world. This was a colossal error..."

This author was not alone; shortly after the war, Hundreds and hundreds of former Doughboys returned to France - some to visit, some to reside...
Thanksgiving and Football (The Stars and Stripes, 1918)
Peace was eleven days old when this column first appeared.
Anticipating Thanksgiving, 1918, The Stars & Stripes announced that football games, movies and assorted other forms of entertainment had been arranged by the American Red Cross in order to placate the eager American survivors of the First World War who simply wanted to get on those big boats and sail home.

As an expression of gratitude, numerous French families had volunteered to invite American soldiers and sailors to their homes to celebrate the Thanksgiving holiday.
Did You Not See Your Search Article On This Page?
The Subject You Are Seeking Is On This Site,
It Has Simply Been Removed From This Page.
Please Use This Search Engine To Locate It.