Recently Added Articles
Click here to be notified when articles
are added to your favorite categories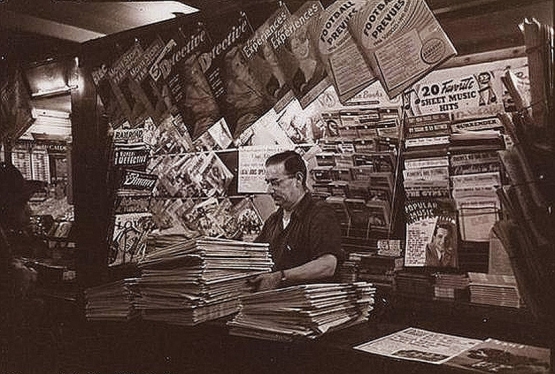 No Citizenship for Japanese Immigrants (Literary Digest, 1922)
A two page article which marks the date of November 13, 1922 as a poor one for the assembled masses who happened to have been of Japanese ancestry in the United States. On that date Justice George Sutherland (1862-1942), of the United States Supreme Court, handed down the ruling that "the Japanese can not be citizens of this country". The opinions of many American Newspapers are presented herein, among them an excerpt from the St. Louis "Star" which summed up the opinion just so:

"The law which prevents the naturalization of Japanese is plainly intended to exclude the Japanese because they are racially unassimlable and their presence creates economic difficulties."
Scientific Proof That Women Should Not Be Allowed to Vote (Current Opinion, 1912)
This is a magazine article concerning the well respected British bacteriologist and immunologist Sir Almroth Wright (1861 - 1947) and his belief that women should be denied the vote. Using his scientific training, Wright tended to believe that due to their flawed nature, women were deprived of a proper sense of reasoning, that they were endowed with an inability to keep subjects within a suitable perspective and prone to hypersensitivity.

One year after this article appeared, his scientific findings on this topic were published in his book, The Unexpurgated Case Against Woman Suffrage
.
''When Women Rule''(Vanity Fair, 1918)
Some well-chosen words by L.L. Jones, one of the many forgotten Suffragettes of yore, who looked longingly to new day:

"So far as political equality is concerned I believe I could adjust myself quite readily to a society governed by United States presidentesses, State governesses, and city mayorines, alderwomen, chairwomen, directrices, senatresses, and congresswomen, and I believe I should be just as happy if clergywomen preached to me, doctrices prescribed for me, and policewomen helped me across the street, and chuffeuresses ran the taxis which on rare occasions I can afford to take."

Read a 1918 article about the women's city.
The 1920s Craze for Flagpole Sitting (Literary Digest, 1929)
Here is a 1929 magazine article that makes clear for us in the digital age just how appealing the fad of flag pole sitting was to the YouTube-starved teenagers of the Twenties. This article tells the tale of Avon "Azie" Foreman and Jimmy Jones, two courageous flag pole sitting sons of Baltimore who inspired their feminine Maryland counterparts, Ruth McCruden and Dorthy Staylor, to ascend to perch. Flag pole sitting seemed so heroic that one woman was so moved as to put pen to paper and write:

"It was to me an inspiring sight when little 'Azie' slid down the pole. He had shown the indomitable spirit and courage of a real Christian youth, like the Crusaders of old, and I was proud to be there to applaud him. It is from such boys great missionaries are made."
The Capture of General Hideko Tojo (Yank Magazine, 1945)
War correspondent George Burns reported on the momentous day when the American Army came to arrest the former Prime Minister of Imperial Japan, General Hideko Tojo (1884 - 1948). Tojo served as Japan's Prime Minister between 1941 and 1944 and is remembered for having ordered the attack on the American naval installation at Pearl Harbor, as well as the invasions of many other Western outposts in the Pacific. Judged as incompetent by the Emperor, he was removed from office in the summer of 1944.

This article describes the efforts of Lt. Jack Wilpers who is credited for prolonging the life of Tojo after his amateur suicide attempt and seeing to it that the man kept his date with the hangman. Nominated for the Bronze Star, he was decorated in 2010: read THE WASHINGTON POST article.
Marijuana in the Thirties (Literary Digest, 1938)
During the closing days of 1937, Clarence Beck, Attorney General for the State of Kansas made a radio address on the Mutual Broadcasting System concerning the growing popularity of Marijuana:

"It Is estimated the Narcotic Bureau of the New York Police Department in 1936 alone destroyed almost 40,000 pounds of marijuana plants, found growing within the city limits. Because of its rapidly increasing use, Marijuana demands a price as high as $60 a pound." (continued)

Click here to read a 1930s magazine article about Mexican Dope smuggling.
The Women Voter in Her First Five Elections (Pathfinder Magazine, 1940)
This is an interesting article that indicates just how profoundly elections had changed after 1920, when women began to vote. Previously, when the voting booth was a gender-specific domain, the victory margins were seldom greater than 10%; yet, beginning with the 1920 presidential election and continuing through the election of 1936, dramatic differences could be seen between the winners and losers that had never existed in prior contests.

The journalist believed that the advent of radio broadcasting also played a contributing factor in these elections.

Read a 1951 profile of a future First Lady: the young Nancy Reagan.
Changed American Opinions: 1929 - 1952 (Pageant Magazine, 1953)
In an effort to show how American thought can vary between decades, a retired pollster from the Gallup organization collected the data gleaned from various opinion polls that were launched between 1929 on up through the dawn of the Atomic Age in order to show what a different people we had become. The topics that were addressed were

• Racial tolerance
• Taxes
• Women in the work place
• Labor unions
• Women smoking
• Bathing Suits
The Lot of Women in the Great Depression (New Outlook, 1934)
An editorial by two American feminists who insisted that the economic depression of the Thirties had knocked the wind right out of the Women's Movement. They argued that some of the high ground that was earned in the preceding decades had been lost and needed to be taken back; their points are backed up by figures from the U.S. Census Bureau as well as other agencies. Much column space is devoted to the employment discrimination practiced by both state and Federal governments in favor of single women at the expense of the married. It is grievously made clear that even the sainted FDR Administration was one of the cruel practitioners of wage inequality.

CLICK HERE to read about the pay disparity tha existed between men and women during the 1930s.

During the later years of the Great Depression a new hat was a seemingly unattainable fashion item and so many women began wearing element in lieu of a hat - click here to find out...
Combat Photographer in Cassino (Yank Magazine, 1944)
Society photographer Slim Aarons (1916 - 2006) is remembered for chronicling the swells of Palm Beach and Newport during the 1960s for TOWN & COUNTRY, among other magazines, but before he was able to have those villa doors open for him he had to first pay his dues at Yank Magazine, photographing the dung and destruction of World War Two.
This is an article he wrote about all that he saw during the Battle of Monte Cassino (January 17, 1944 – May 19, 1944), accompanied by five of his photographs.
Did You Not See Your Search Article On This Page?
The Subject You Are Seeking Is On This Site,
It Has Simply Been Removed From This Page.
Please Use This Search Engine To Locate It.
Loading Search Engine