The attached Collier's article was written by two post-debs of the Boston/Manhattan variety who were both products of what they called "the approval mill" of America's upper-crust. Having been run through the right schools and the right summer camps, they attended the right parties and made charming with all the right people; looking back in their 20s, they were able to see how this long-treasured practice prepared them poorly for life - tending to perpetuate the spiraling vortex of women who were educated and polite, yet unable to think.
Another article by a highbred, woebegone, blue-blood who, plagued by a boatload of distinguished primogenitors and over-burdened by a lavish trust fund - to say nothing of a bad case of affluenza, could take no more of it; she broke-down and scribbled the attached expose in hopes that the whole highfalutin' plutocracy would come crashing down on top of all those icky, pompous know-it-alls.
"Life for America's so-called social aristocrats is colorless and uninspired. Our education, now that I look back at it, seems to have produced a frightening number of properly mannered, emotionally passive and intellectually sterile young snobs... This training is not easily overcome."
Gosh. We thought only Howard Zinn wrote like that.
Some witty words on the topic of butlers; what to expect from butlers, the treatment of butlers and how exactly one should be butled
"It is not easy to butle, but it is still more difficult to be butled to..."
The author of this VOGUE MAGAZINE article needed to know the answer to this most relevant of questions: did the English country house come into being simply to "keep the English playwright from the bread-lines?"
These days the Bush family is not much in vogue, but that was not always the case.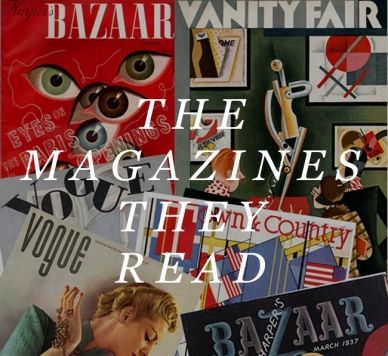 Attached is a small notice from a 1921 issue of VOGUE MAGAZINE announcing the marriage of George Herbert Walker's daughter, Dorthy, to a Mr. Prescott Sheldon Bush in Kennebunkport, Maine. From this union would spring two U.S. Presidents, one Florida governor, and one Chief Executive of the Municipal Opera Association.
Stephen Leacock (1869 - 1944) had some amusing opinions concerning social introductions according to the recognized formulas.
"With the approach of the winter season, conversation as an art is again in order. It is a thing that we all need to consider. Some of us are asked out to dinner merely because we talk. Others, chiefly because we do not. It is a matter in which we can help one another. Let us discuss it..."
Click here to read about feminine conversations overheard in the best New York bathrooms.