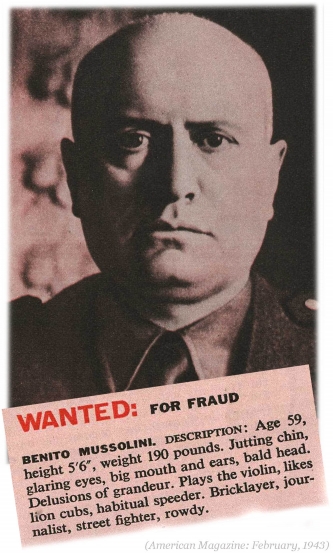 On June 29, 1931, Pope Pius XI issued an encyclical letter that condemned Italian fascism's "pagan worship of the State" and "revolution which snatches the young from the Church and from Jesus Christ, and which inculcates in its own young people hatred, violence and irreverence." The Pope irritated Mussolini to a further degree by labeling the Italian Fascist government as "anti-Catholic" after Il Duce put the kibosh on numerous Catholic youth organizations throughout the land. A Truce was agreed upon but as Mussolini grew closer to the Nazis later in the decade, and the battle reemerged.
"Since 1922 Italy's marriage rate has fallen to 7.2 per 1,000 of population, her birth rate to 22.2 per 1,000 and her excess of births over deaths to 8.7 per 1,000. The newspaper IL POPOLO d'ITALIA of Milan has estimated that the steady decline in the birth rate has deprived Il Duce of 15 army divisions."
As you will see by reading the attached article, Mussolini's flack released no information concerning Rachele Mussolini (1890 – 1979), Il Duce's second wife. All that they seem to know about the lass was that she had a waistline that rivaled his.
"They killed Mussolini and his henchmen. They killed 1,000 persons in five days in and around Milan. Some Partisans thought the city was still not cleaned of Fascists when the American Army finally entered on Sunday afternoon April 29 and by their presence ended the assassinations.The fighting was about over; the even more difficult struggle was for stability was already beginning but with less excitement."
An Italian partisan fighter described to a reporter of the United Press exactly how Benito Mussolini met his end.

MORE ARTICLES >>> PAGE: * 1 * 2 * 3 *

4

*