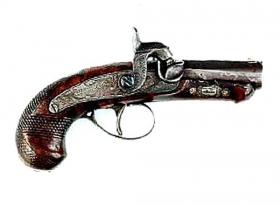 Ever since the age of photography began, one of the semi-official pastimes of the American people involves taking note of the rapid facial decay of their assorted presidents while in-office - and as the collected photographic portraits of Abraham Lincoln clearly indicate, no one will be naming a skincare product after him any time soon, however, the aging process that effected his face so dramatically has been the subject of Lincoln admirer's through the years, and some are collected in the attached article.
"Lincoln could use humor as an explosive weapon as well as employing it as a constructive force... For Abraham Lincoln never told a story except with a purpose. He himself pointed this out often. His anecdotes were the precision tools of a highly skilled and intelligent wit... 'I laugh because I must not cry: That's all, that's all.'"
Click here to read another article about Lincoln's use of humor and story-telling.
In this six page article the controversial author and prominent chemist, Otto Eisenschiml (1880 – 1963), recalled the events that unfolded at Ford's Theater as Lincoln lay dying. A good deal of information is dispensed concerning the physical damage that was wrought by Boothe's derringer (pictured) - as well as the various life-prolonging measures that were implemented by the 23 year-old doctor who was first on the scene.
"If Lincoln had survived his wound he would not have been the man whose picture is now alive in the minds and hearts of the American nation... Most likely he would have been paralyzed, partially or on both sides; moreover, he would have been totally blind. Worst of all, he would have been a man without an active brain... a sorry semblance of his former brilliant self."
Relying on the expertise of various Lincoln scholars (Paul M. Angle, Dr. William Barton, Reinhard Luthin and David Mearns), efforts were made to verify whether or not all the many aphorisms, bon mots, maxims and plentiful epigrams attributed to Lincoln were indeed authored by the slain president, or were they the product of the hundreds of forgers and prevaricators that followed in his wake.
This five page article examined the prodigious efforts of the cottage industry that specialized in all sorts of Lincoln hooey and reported that "Honest Abe" had never written or uttered anything about "fooling the people some of the time" or any matter of that nature:
• nor had he ever embraced anti-Catholicism.
• He never knew a lass named Ann Rutledge,
• he probably did not write the eloquent letter to Lydia Bixby,
• and he was not the author of what has come to be known as the "Ten Points".
This 1956 article addressed the issue of Lincoln's depression:
"Lincoln's story telling proclivities were well known in his own time. On the old eighth circuit in Illinois his humor and fund of anecdotes were proverbial. What was not so well known was that the tall, homely man needed a blanket of humor to suppress the fires of depression, gloom, and sense of tragedy that almost consumed him".
Click here to read about Lincoln, the joke teller.
MYTHS AFTER LINCOLN
is a book that documented many of the assorted tall tales that have, through the years, evolved in such a way as to have us all believe that Lincoln was a mystic who was blessed with dreams of foreboding.
The myth of Lincoln's funeral train appearing as an apparition once a year is discussed, as are the legends that John Wilkes Boothe, like Elvis, survived the Virginia barn fire, where he is believed to have died and escaped into the Western territories.