F.D.R. - Supreme Court-Packing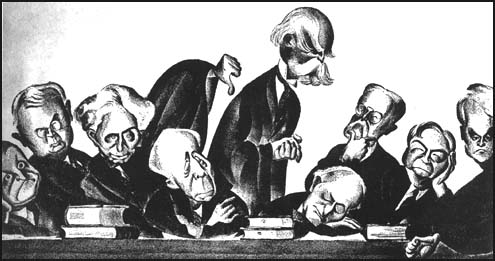 One of FDR's primary targets was the 75 year-old Justice James Clark McReynolds, attached you will find a four page profile of the man.
"Part of the personal tragedy inherent in President Roosevelt's suggestion to rid the Supreme Court of men over 70, part of the uncertainty with which liberals greet his plan, must arise from consideration of Louis Demblitz Brandeis. At 80, Brandeis is the oldest of the nine justices... Liberals cherish him, conservatives respect him and the [FDR] administration is grateful to him".
Justice George Sutherland (1862 - 1942) was consistently on the reactionary side in votes against New Deal legislation. It was he who wrote the decisions invalidating the Guffey coal-control act and the powers of the SEC to interrogate witnesses. His NRA and the Municipal Bankruptcy Act, railroad pensions and "hot oil" legislation. He voted in favor of the TVA and old-age pensions."

MORE ARTICLES >>> PAGE: * 1 *

2

*