Marking the occasion of the untimely death of American soprano Alma Gluck (born Reba Feinsohn; 1884 - 1938), music critic Samuel Chotzinoff wrote this essay in which he recalled witnessing the first meeting between Gluck and her (second) husband Efrem Zimbalist, Sr. (1890 - 1985) at the absolute height of her fame in 1911. The remembrance continues as Chotzinoff labels that era as being the 'golden age of vocalists' and recalls many of the finest qualities of her talent.
Attached is a brief article on the topic Native American music and the studies of Alice Cunningham Fletcher (1838 - 1923), who had overseen a number of Native American archival recording sessions around the time this article appeared in print. Fletcher once wrote:
"We find more or less of it in Beethoven and Schubert, still more in Schumann and Chopin, most of all in Wagner and Liszt."
André Tardieu (1876 – 1945),while writing for the French magazine TEMPS, committed to paper these unkind words regarding the Italian opera star Enrico Caruso (1873 – 1921) in an attempt, perhaps, to only slander Caruso's many adoring American fans and the culture that created them.
"...the American public admire only those artist's for whom they pay dear."
For those of you looking for some dish in the music history department, this article recounts a conversation between Rimsky-Korsakov (1844 – 1908) and Leo Tolstoy (1828 – 1910) as to which Russian composer Rimsky-Korsakov preferred the best: Anton Rubinstein or Peter Tschaikovsky. Opinions flew in all directions and many more names were dropped before the conversation came to a close...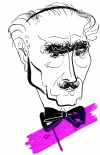 Attached, you will find a small profile of Kosaku Yamada (1886 - 1965) published shortly after his New York debut in 1919. Classicly trained in Europe, "Yamada organized the first symphonic orchestra of native players to perform the music of Occidental composers under a Japanese conductor", which later became the Tokyo Philharmonic Orchestra. This article outlines some of his various accomplisments up to 1919, while deleting others. Prior to his two year sojurn in the United States, he had composed three Japanese operas: "Reisho" (1909), "Ochitaru Tennyo" (1913) and "Shichinin No Oujo" (1916).
Tamaki Miura (1884 - 1946) was a Japanese opera singer most often remembered for having performed in over 2,000 stagings of "Madame Butterfly". At the time this short notice appeared she was only one year into her opera career, yet the Vanity Fair music critic recognized talent when he saw it and nominated her for the "Vanity Fair Hall of Fame". It was her inclusion in that august body that serves as the the subject for this short paragraph, which is accompanied by a photograph.