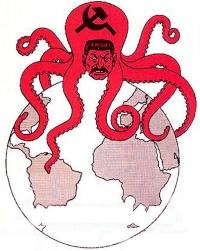 Some were called "Lishentsi", some were called "land lords", "Romanov lackies", "the rich", "the elite" or simply "the middle class"; no matter what the ruling Soviets labeled their preferred bogeymen, they wanted them out of the way. The attached article goes into some detail as to how this was done.
A 1933 magazine article that reported on the "success" of the Soviet Union's first (of many) Five Year Plans.
The myriad five year economic development plans dreamed-up by the assorted butchers of the dear dead Soviet Union all had one thing in common that was never lost on the Russian people: they always involved the construction of new factories, but never the construction of new housing.
Additional magazine and newspaper articles about the Cold War may be read on this page.
"Premier Vyacheslav M. Molotov (1890 – 1986) pictured the Soviet Union as a lusty young giant strong enough to defend itself from both the East and the West in the keynote speech of the Seventh All Union Congress of Soviets, the Soviet Parliament."
"In proof of this claim it was shown that in the last two years the Soviet Government had increased the strength of the Red Army from 562,000 men in 1932 to 940,000 in 1934."
Often published by the editors of "Liberty", "Life" and "Judge", was the American cartoonist Ellison Hoover (d. 1966) who poked some fun at the instability and blood-lusting thirst of the still-born Soviet Union in 1920.
Click here to read an article about the NKVD agent who murdered Trotsky.
The first Soviet famine lasted from 1919 through 1923; some historians have placed the death toll as high as five million:
"[Lenin] is held responsible for the policy which has brought about a consumption of so great a proportion of the seed wheat that the fields cannot be sown. For the first time since Bolsheviki gained power, says the Berlin "Lokalanzeiger", Lenin is a cipher."
Click here to read about the blackmail and extortion tactics that American Communists used in Hollywood during the Great Depression...
"Indignant accusations of trickery in dealing with the grain supply, which have been launched against the Russian Soviet Government by American and European editors, who were amazed to find that Russia was exporting grain in the midst of a new famine, are not particularly noticed by the Moscow press, which however, in such journals as the Moscow 'Isvicstia' and the 'Economcheskaia Gizn' feature reports of starvation in the Volga provinces."
Although there is no mention of the Soviet famine in this 1938 interview with Leon Trotsky, it is interesting nonetheless; to read it for free, you may click here.