Read this article and you will soon get a sense of what busy bees they must have been over at the United States Department of War within that year and a half following the close of World War One. General Amos A. Fries and the lads attached to the Chemical Warfare Service had been applying much cranium power to all matters involving mustard gas, tear gas, Lewisite and White Phosphorus. Much of the post-war dollar was devoted to making ships impervious to gas attacks, masks and uniforms suited to withstand nerve agents and offensive aircraft capable of deploying chemical bombs.
"As to the effectiveness of phosphorous and thermit against machine-gun nests, there is no recorded instance where our gas troops failed to silence German machine-gun nests once they were located...In the next war, no matter how soon it may occur, a deadly composition called Lewisite will be used with far more devastating effect than that of mustard gas."
The article attached concerns the past and future of chemical warfare (at least as this was understood in 1922) and was written by Captain J.M. Scammell, Brit who wrote a good deal on the matter throughout much of the Twenties and Thirties. Like so many other articles we find from the immediate post-war period, Captain Scammell argued that chemical warfare can be one of the most humane options available to a general: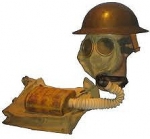 "The really significant figures are those showing that while gas caused 27.3 percent of all casualties, of these only 1.87 percent died! That is less than one-twelfth the percentage that died from the effects of other wounds. Gas, moreover, does not mutilate or disfigure..."
A 1918 NEW YORK TIMES article that reported on the expectations among the French and British for the United States to both use and manufacture mustard gas now that they have joined the war against Imperial Germany. The reporter went to some length elucidating as to the nasty, obscene and vile nature of mustard gas:
"Several months ago when I was making an experiment, some mustard gas got between two of my fingers. It was so little that it escaped notice. It was not until 9 o'clock that night that my hand began to look puffy. The next morning it was badly blistered."
A cartoon by Alban B. Butler illustrating the overwhelming sense of glee that overcame American 1st Division artillerymen of World War I when they were charged with the task of firing the very first mustard gas shells ever to be fired by U.S. forces: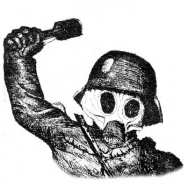 "For months Americans had suffered from repeated concentrations of German mustard gas without the chance to retaliate in kind.
(No date was given)
The attached article, "How Well Our Chemical Industry Has Been Mobilized for War" is an abstract from a 1917 issue of THE JOURNAL OF COMMERCE which discussed how readily American chemists embraced their roll after the United States committed itself to the war.
There is much talk of the procurement of potash, toluol and trinitrotoluol which were necessary elements in the manufacture of gas.
When the United States Congress declared war on Imperial Germany in April of 1917, the New York pamphleteer Halsey William Wilson (1868 - 1954) wasted little time in collecting a list of the numerous war crimes committed by the Germans up to that time in order to launch a mass printing of a 31 page pamphlet that would sell for five cents each. The heinous use of poison gas was listed on page nine.