"About 630 American-born Japanese over the age of 17, now at the Poston (AZ.) relocation center, were found to be openly disloyal or of questionable loyalty to the United States, the Dies subcommittee learned at its hearing yesterday in the Federal Building...Among the 630 there were 606 men and 24 women."
A list provided by the War Relocation Authority of the seven groups that maintained ties and created various social and educational activities for the interned Japanese-Americans spanning the years 1943 through 1945. The Y.W.C.A., the Boy Scouts and the American Red Cross are just three of the seven organizations.
For years prior to W.W. II and the creation of the Japanese-American internment camps, the people of the United States had been steadily spoon fed hundreds articles detailing why they should be weary of the Japanese presence in North America; if you would like to read one that was printed as late as 1939, click here.
The attached table lists the average Japanese-American internment camp population as counted between the months of January to June of 1944. All ten camps were considered in the study.
An interesting article, written with a sense of embarrassment regarding the injustice done to the Japanese-Americans, and published a few weeks shy of VJ-Day. The article reports on how the former internment camp families were faring after they were released from their incarceration. 55,000 Japanese-Americans chose to remain in the camps rather than walk freely among their old neighbors; one man, Takeyoshi Arikawa, a former produce dealer, remarked:
"I would like to take my people back home, but there are too many people in Los Angeles who would resent our return. These are troubled times for America. Why should I cause the country any more trouble?"
Important references are made concerning those families who had lost their young men serving in the famed 442 Regimental Combat Team: a U.S. Army unit composed entirely of Nisei that was awarded a Presidential Unit Citation for it's fortitude displayed in Italy, France and Germany.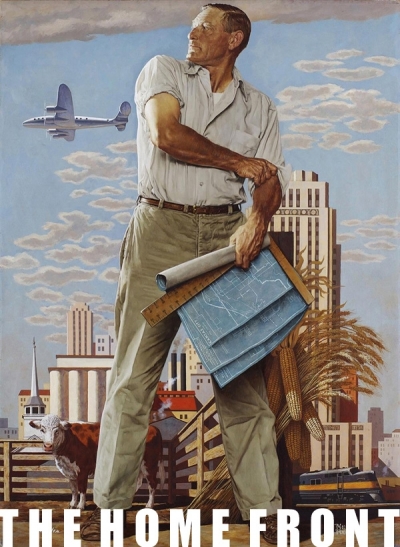 Attached is a chart that served to document the occupations of all the Isei and Nesei adults who were interned during the course of the war.
Even under the gloomy conditions of the camps the wheels of commerce continued to turn ~and they turned out an impressive $3,526,851.77! As can clearly be seen in the plans of the camps that are offered on this site, the camps all had commercial districts where the interned families could purchase needed goods and services; the ten Japanese-American internment camps had 160 businesses operating within their gates that managed to employ 1,853 souls. The attached chart from the 1944 records of the War Relocation Authority serves to illustrate the productivity of all these assorted commercial operations that had once thrived in the camps.