This memoir is interesting on a number of levels, but it stands out for having the earliest printed use of the word "gay" - when used in the same sense it is used today:
"The homosexuals have a slang of their own; to cite one of the better known words, they refer to themselves as 'gay'".
A 1948 article illustrated with four charts offering a state-by-state breakdown as to how each municipality chose to enforce sodomy laws and various other sexual infractions:
"The laws against sodomy are most often applied to homosexuals, especially when an adult has made an advance to a minor...The origin of these laws is often obscure. Many of them derive straight from the Old Testament, or from Roman or English common law."
From Amazon:
Dishonorable Passions: Sodomy Laws in America, 1861-2003
"'I think it [sodomy] is a matter of morals' declared Judge Learned Hand (1872 – 1961) 'a matter very largely of taste, and it is not a matter that people should be put in prison about.' Previously, he had voted to make homosexuality punishable under the [N.Y.] Model Legal Code, because omitting it might make the entire Code less likely to be accepted."
"What practical effect will the Law Institute's Model Code have on the law Americans live with?" Asked Professor Louis B. Schwartz (1913 - 2003) of Pennsylvania U's Law School, who supervised the writing of the sex provisions:
"We would regard it as a stroke of luck if a state would enact all this soon..."
This 1961 article examined the question: Is sex a requirement in order to lead a happy life?
From Amazon:
Erotic City: Sexual Revolutions and the Making of Modern San Francisco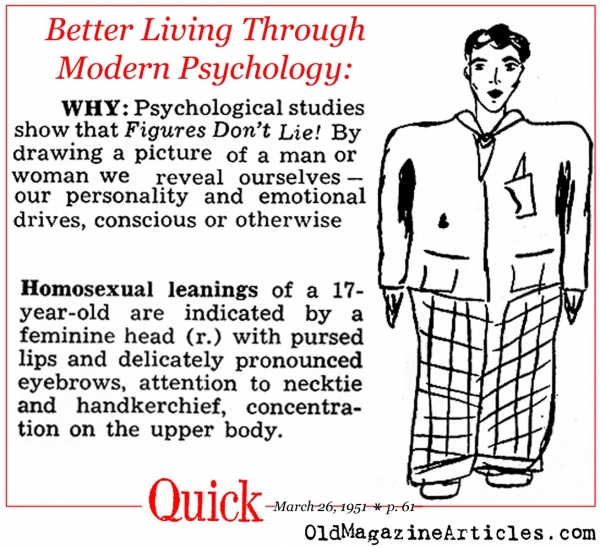 The eight page article attached herein, "Plain Talk about Homosexuals", is fabulously naive for all it attempts to explain about gays - and it is also, in a way, far more kind about gays and lesbians than many other articles from this era.
The closeted lives of gay men in 1950s America is but one of the many topics addressed in the attached article. Illustrated with seven images, the column is largely composed of quotes from anonymous gay men uttered to Dr. Albert Ellis (1913 – 2007), a prominent psychologist and researcher in the field of sex and love:
"Homosexuality, says Ellis, cuts across all segments of society. Causes are complex and there is a disagreement even among experts. Some hold that it is due to heredity or other biological factors. Others, like Ellis, say it is caused by psychological, social and family influences."
(The American Psychiatric Association would not conclude that being gay was not a mental disorder until 1973)
"Marlene Dietrich going for dolls? Her adoring fans the world over will shriek, "Impossible!" It's the truth, though. In the game of amour, she's not only played both sides of the street, but done it on more than one occasion."