The editors of PATHFINDER MAGAZINE were rightfully scandalized to report that the Mississippi State Senate voted in favor of purchasing two sets of civics books for the school children of their state:
"[The] idea behind this, said the Senate Education Committee, was to eliminate instructions for voting from the books to be distributed to Negro pupils".
What do you know: the same arguments existed then, too...
"'The public school system will become a vast political machine.' And this machine, it is charged, 'will give a Federal Administration the opportunity of creating an educational autocracy, really endangering the liberty of thought and information, which is a basic right of the people.'"
The article pertains to a bill that was before the Congress at that time that proposed the creation of a "Department of Education". The bill was defeated. The proposed legislation was enthusiastically supported by the National Education Association.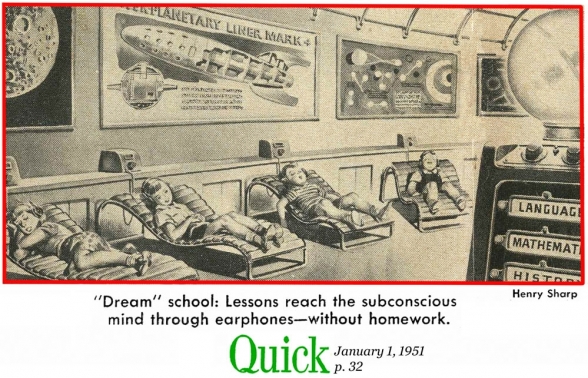 The concept of a free college education paid for by the Federal Government was not the brain child of the Vermont Marxist Bernie Sanders, but an idea that was briefly pursued by the education advisers of U.S. President Harry S Truman:
"Today the average American of 20 - 24 years of age has completed 12.1 years of schooling, an all-time high...Last week the President's Commission on Higher Education issued a report aimed at pushing the average still higher. It urged that free public education be extended through the first two years of college."
Even as early as 1894 socialism was recognized as wishful thinking.
Although the author of this article, educator Cedric Fowler, does not offer a name for the subject he is proposing, it will not take you very long to recognize it as "social studies". Fowler argued that the text books available at that time were more suited to the Nineteenth Century than the tumultuous Thirties, ignoring all the various hot topics of the day that would have made subjects such as history, geography and civics come alive for those students who were enrolled at the time of the Great Depression.
"Life has become more complex for young Americans since the time of their fathers and grandfathers, and educational method has become more complex and more comprehensive with it... The work of Dewey, Thorndike and a score of other authorities has liberated the schoolroom from its stuffy atmosphere, has made it possible for it to become an ante-room to adult life."
A minor dust-up between Florida and New York as to which of the two had the oldest schoolhouse.