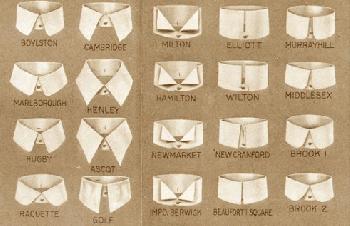 A quick read for costumers and historians regarding the fashion "dos and don'ts" on the matter of men's ready-made clothes from 1914.
"Twelvemonth ago, the war had sobered 'le monde ou l'on s'amuse' like an icy douche. Europe rang with the clump of tramping feet. Forked lightening seemed to lurk in the sky. In club cars of limited trains and smoke rooms of trans-Atlantic liners heads were put together and the air was as tense as a fiddle string... Fashion tipsters, with long ears and short sight, said that the world would put on black, and style was knocked in the head, and look for the deluge, and so on 'ad nauseum'"."
A look back at men's jackets, both for the garden party as well as other antiquated leisure activities.
Illustrations of fashion's offering from the Fall of 1921: great coats, semi-great coats, overcoats and ulsters; raglan and otherwise.
A printable selection of the detachable shirt collars
(of both the cotton and rubber varities) available to both men and boys from the 1919 Sears & Roebuck catalog, no. 138.
This article is very broad in it's appeal; the fashion journalist did not simply cover the summer suit options available to the Well-Dressed Man of 1921 but also the tennis apparel, equestrian attire and the apropriate togs for slacking off at your favorite homo-phobic, sexist, anti-semetic and racist club.

MORE ARTICLES >>> PAGE: * 1 * 2 * 3 * 4 * 5 *

6

* 7 * 8 * > NEXT