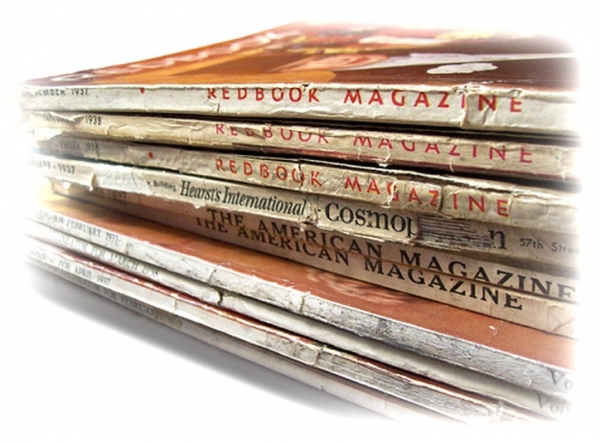 When MAD MAGAZINE first appeared on newsstands in 1952 it was immediately recognized as something quite new in so far as American satirical magazine humor was concerned. The earliest issues were produced in comic book format with almost all content produced by its founding editor, Harvey Kurtzman (1924 – 1993); by 1955 the magazine's lay-out was altered to its current form. From its earliest days, Kurtzman and his publisher, William Gaines (1922 – 1992), began receiving unsolicited gags from many of the finest writers and performers on radio and TV. This article lists some of the scandals (both foreign and domestic) that the magazine inadvertently generated.
Inasmuch as OldMagazineArticles.com is devoted to archiving the articles from the olde YANK, we are also keen on posting article about the magazine and its editorial policies, for few periodicals said as much about that generation and their lot in the Forties better than YANK. Attached is a photo essay from CORONET MAGAZINE, illustrated with some 23 images, that tell the tale of how that weekly operated.
When W.W. II came to a close and YANK MAGAZINE was no more, this article was written -
Twenty-three years after Harold Ross (1892 – 1951) launched THE NEW YORKER, this profile of the man appeared on the newsstands:

"Ross is a kind of impostor. THE NEW YORKER is urbane; cactus is more urbane than Ross. THE NEW YORKER carries understatement almost to the point of inaudibility; with Ross the expletive crowds out most of the eight parts of speech....It is true that he never had a high school education; but it is also true that he is a master grammarian, and that the superb sense of style which informs THE NEW YORKER flows in part from his clean, uncompromising feeling for the English language."
Click here to read the second half of the Harold Ross profile. This portion is decorated with rejected cartoons from THE NEW YORKER...
Ross never forgot his days in Paris as the editor of THE STARS & STRIPES, click here to read an article about that period in his life.
THE HOBO NEWS printed poems, cartoons, pin-ups, essays and news items that were useful to that unique class of men who rode the rails and frequent flop-houses. It was established in New York City by Pat "The Roaming Dreamer" Mulkern (1903 - 1948); the paper was run by hobos, for hobos and printed proudly across the awnings of their assorted offices were the words "a little cheer to match the sorrow". Mulkern recognized that no self-respecting litigator would ever stoop to sue a newspaper with such a pathetic name, and so the paper was voluntarily in constant violation of U.S. copyright law by habitually printing the articles they most admired that had earlier appeared in COLLIER'S, THE NEW YORKER and THE SATURDAY EVENING POST.
"Forty years ago the Boston publisher, Phillips, with the assistance of that famous coterie of American writers that included Longfellow, Lowell, Emerson, Whittier, Holmes, Motley, Quincy, Parker, Cabot and Underwood launched
THE ATLANTIC MONTHLY..."
"It was Holmes who named the magazine, and it was he, probably, more than any other, who assured its success... The prime object of THE ATLANTIC was in the beginning and has continued to be the making of American literature, 'to hold literature above all other human interests.'"
PM (1940 - 1948) was a left-leaning, New York-based evening paper that enjoyed some notoriety across the fruited plane on account of its founding editor, Ralph Ingersol, who liked to believe that his steady mission was to create "A tabloid for literates":
Contributors included Theodor Geisel (aka Dr. Seuss), I. F. Stone, Ad Reinhardt, J.T. Winterich, Leane Zug‐Smith, Louis Kronenberger and Ben Hecht; the photographs of Margaret Bourke‐White and Arthur Felig (aka Weegee) appeared regularly. Occasional contributors included Erskine Caldwell, Myril Axlerod, McGeorge Bundy, Saul K. Padover, Heywood Broun, James Thurber, Dorothy Parker, Ernest Hemingway, Eugene Lyons, Earl Conrad; Ben Stolberg, Malcolm Cowley.
Preferring to rely more on subscribers than advertisers, PM only lasted eight years.

MORE ARTICLES >>> PAGE: *

1

* 2 *