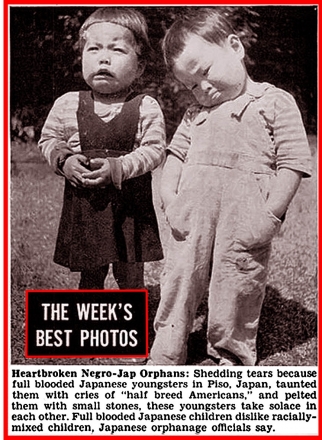 During the winter of 1942, Private Harry Carpenter, U.S Army, made a big honking mistake when he decided to declare that the current war was "a white man's war". Arrested by the MPs and carted-off to stand before Magistrate Thomas O'Hara, Carpenter found that he had reaped the whirlwind: he was charged with treason against the United States.
"Much has been written and much more whispered about relations between American Negro soldiers and white girls in Britain and elsewhere. To get at the facts, Newsweek assigned William Wilson of its London bureau to a candid review of the subject. His findings , largely from the standpoint of the Negro soldiers themselves [are as follow]."
What a thoroughly outrageous article this is! In my experience reading news pieces from both world wars I have never once come across one in which the journalist pinpoints a particular fighting unit and labels it as substandard - but that is exactly what happens in this article about the all-black 92nd Division. Previously, I never thought such a thing would ever happen with a censored press that sought to preserve the morale of both soldiers and home front - but I was wrong.
"The government, endeavoring to meet the problem by raising the economic stature of the Negro, create committees, change regulations. The Army admits Negro candidates for officer training to the same schools as whites. It is training Negro pilots for the Air Corps. Negro officers will command Negro troops. The Navy opens new types of service for the Negro in the Marine Corps, the Coast Guard, inshore establishments, Navy yards and construction crews."
A three page photo-essay found on the yellowing pages of a 1943 issue of Click Magazine introduced American readers to the flying Black Panthers of the U.S. Army Air Force; a fighter squadron composed entirely of African American pilots, trained "at the new $2000,000 airfield in Tuskegee, Ala.". The four paragraphs that tell their story are accompanied by eight portraits of the pilots and snap-shots of the assorted ground crew, mechanics and orderlies - all Black.
- from Amazon:
"They undoubtedly will reach a combat area this summer. One squadron, the 99th, has arrived overseas already. [These] pilots, whose insignia is a flame-spewing black panther, are rarin' to join them. They want to roar a personal answer to the Axis 'race superiority' lies."
This article partially explains the excitement of being a Tuskegee Airman and flying the Army's most advanced fighters and partially explains what it was like to be a black man in a segregated America:
"I'm flying for every one of the 12,000,000 Negroes in the United States. I want to prove that we can take a tough job and handle it just as well as a white man."