Attached is a translation of the text of the Franco-German declaration signed in Paris on December 6, 1938.
Click here to read about the Hitler-Stalin Non-Aggression Pact.
Shortly after the German exit from Paris, French writer and philosopher Jean-Paul Sartre (1905 – 1980) put pen to paper in an effort to help explain what the citizens of that city were feeling throughout the German occupation of Paris:
"At first the site of them made us ill; then, little by little, we forgot to notice them, for they had become an institution. What put the finishing touches to their harmlessness was their ignorance of our language. A hundred times I've seen Parisians in cafes express themselves freely about politics two steps away from a blank looking German soldier with a lemonade glass in front of him. They seemed more like furniture than like men."
"The apathetic France of 1939 is dead. Collier's correspondent, journeying across southern France, found high hope of unity and determination to punish all collaborationists. France, he feels, is reborn."
The French knew as early as 1916 that they would have a man power crises in their future. The Second World War was barley two weeks old when they made it clear to all that they were not going to launch any major offensives against the Germans, but would immediately assume a defensive posture.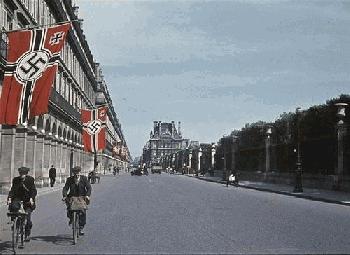 An editorial by retired U.S. Army Major General Stephen O. Fuqua (1874 - 1943) in which he stresses the difference between a "retreat" and a "withdrawal" in an effort to emphasize that the recent disengagement exercised by the French Army on October 19 [1939] was purely voluntary - and that they were not forced back by the Germans. Additionally, the general sums up other aspects of the nascent war and explains their meaning.
Attached is an article by the noted war correspondent Frederick Palmer (1873 - 1958) who observed the French and British as they attempted to hold-off the Nazi juggernaut of 1940. In this article, Palmer referred a great deal to walking this same ground with the American Army during the 1914 - 1918 war just twenty-one years earlier; he found the French to be confident of a decisive victory. The column is complemented by this 1940 article which reported on the wonders of "Blitzkrieg" and the fall of France.
Click here to read the observations of U.S. Army lieutenant Louis L'Amour concerning 1946 Paris.