"The apathetic France of 1939 is dead. Collier's correspondent, journeying across southern France, found high hope of unity and determination to punish all collaborationists. France, he feels, is reborn."
The French knew as early as 1916 that they would have a man power crises in their future. The Second World War was barley two weeks old when they made it clear to all that they were not going to launch any major offensives against the Germans, but would immediately assume a defensive posture.
An editorial by retired U.S. Army Major General Stephen O. Fuqua (1874 - 1943) in which he stresses the difference between a "retreat" and a "withdrawal" in an effort to emphasize that the recent disengagement exercised by the French Army on October 19 [1939] was purely voluntary - and that they were not forced back by the Germans. Additionally, the general sums up other aspects of the nascent war and explains their meaning.
Attached is an article by the noted war correspondent Frederick Palmer (1873 - 1958) who observed the French and British as they attempted to hold-off the Nazi juggernaut of 1940. In this article, Palmer referred a great deal to walking this same ground with the American Army during the 1914 - 1918 war just twenty-one years earlier; he found the French to be confident of a decisive victory. The column is complemented by this 1940 article which reported on the wonders of "Blitzkrieg" and the fall of France.
Click here to read the observations of U.S. Army lieutenant Louis L'Amour concerning 1946 Paris.
An article by military historian and biographer Fairfax Downey (1894 - 1990) concerning the unique manner of mechanized warfare that the Germans had introduced to the world during the opening weeks of the Second World War: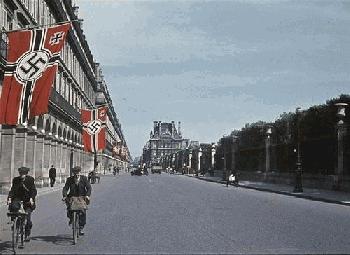 "Thunder rumbles, lightening flashes and strikes. Incredibly swiftly it is over. So, compared to the campaigns of the First World War, was the German Blitzkrieg, rumbling, flashing and striking down Poland, Norway, Holland, Belgium, and France. How did it work? What made it click?"
On assignment for the Hearst papers, H.R. Knickerbocker (1898 – 1949) witnessed the total collapse of the French Army. He made his observations and conclusions available to American readers in his 1941 book Is Tomorrow Hitler's, which hit the bookshops shortly after Pearl Harbor.
"If [The French] had ignored their low birth rate, been willing to spend lives, had retained the old offensive spirit traditional in the French Army, had known that they had to win or perish, had a Churchill to inspire and lead them, and had no traitors in their ranks, their comparative lack of weapons would not have mattered; they would still be fighting the Germans in France."
Click here to read the observations of U.S. Army Lieutenant Louis L'Amour concerning 1946 Paris.
Another article about a French general who collaborated with the Nazis can be read here...