General Maxime Weygand (1867 – 1965) is remembered as the French military commander who allowed himself to be out-maneuvered and out-generaled when France was invaded by the German Army in May of 1940. The Battle for France lasted roughly 42 days before Weygrand's forces collapsed.
Shortly after the German exit from Paris, French writer and philosopher Jean-Paul Sartre (1905 – 1980) put pen to paper in an effort to help explain what the citizens of that city were feeling throughout the German occupation of Paris:
"At first the site of them made us ill; then, little by little, we forgot to notice them, for they had become an institution. What put the finishing touches to their harmlessness was their ignorance of our language. A hundred times I've seen Parisians in cafes express themselves freely about politics two steps away from a blank looking German soldier with a lemonade glass in front of him. They seemed more like furniture than like men."
French collaborator Pierre Laval (1883 – 1945) is remembered as the Nazi tool who presided over France between 1942 and 1944, allowing for the deportation of Jews and French laborers into Germany. On D-Day, Laval stood before the radio microphones cautioning his countrymen not to join in the fight against the German occupiers. His many sins would be known a year later during the liberation of Paris, but this writer was very accurate in cataloging all his many failings, both as a citizen of France and as a Human Being.
CLICK HERE to read about Laval's Norwegian counterpart: Prime Minister Vidkun Quisling...
Two YANK MAGAZINE reporters rode into Paris behind the first tank of the Second French Armored Division, following the story of the city's liberation in their recently liberated German jeep. Here is a picture of Paris and the reaction of Parisians to their first breath of free air in four years.
"As they caught site of the American flag on our car, people crowded around and almost smothered us with kisses..."
"The capital of France, as of September 1944, is not the same nervous, triumphant paradise city that it was when the Allies first made their entry."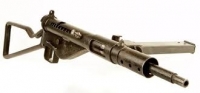 "The welcome has died down. When you enter the town, today, whether on foot or in a car, everyone is glad to see you, but there are no more mob scenes of riotous greeting exploding around each jeep. Shows are opening again, and the people are beginning to breathe easier...On the other side, Parisians appear as a very grateful but proud and self-reliant population."
Attached is a translation of the text of the Franco-German declaration signed at Paris on December 6,1938.
Click here to read about the Hitler-Stalin Non-Aggression Pact.