This article tells of the U.S. Army Ordnance Corps and how they go about turning enemy weaponry inside-out in order to gain a full understanding of Axis capabilities:
"Every gun, from the smallest side-arm to largest howitzer, every tank, truck or other conveyance, every airplane and item of equipment abandoned by the retreating enemy, whether it be emergency ration or new type haversack falling into Allied hands, is carefully scrutinized for tell-tale clues to [the] foe's tactics and resources."
"Six-pounder guns are being turned out in large numbers in one of the Royal Ordnance factories in England. Most of the workers who make them are women. The gun is highly mobile and is said to have a high rate of fire and remarkable armor penetration."
"Soon after Pearl Harbor Americans began hearing about a Japanese warplane called called the Zero. It had an unusual name, it was virtually unknown, even to aircraft experts, and almost immediately it began to take on an air of sinister mystery. Information now available shows there is no good reason for the mystery, although the plane has been a big factor in the Jap drive... The Zero has no secret weapons or engineering developments. It is simply a pretty good pursuit or fighter."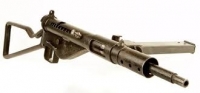 This article was written by the war correspondent Fairfax Downey (1894 - 1990) for a magazine that catered to American veterans of W.W. I, and it seemed that he simply could not contain his enthusiasm for the U.S. infantry's newest rifle: the M-1 Garand:
"What a gun it is! Its nine pound weight swings easily through the manual of arms. The eight-round clip (three more shots than the we used to have with the '03 Springfield) slips in easily and the breech clicks closed. The old range scale slide has vanished; range and windage adjustments are made simply by turning two knobs... The new semi-automatic means, among other things, that the fire power of troops armed with it has increased at least two and a half times over the old Springfield."
For further magazine reading about John Garand and his rifle, click here.
Attached is the sweetest conte crayon illustration ever to depict a Tiger tank is accompanied by some vital statistics and assorted observations that were recorded by the U.S. Department of War and printed in one of their manuals in March of 1945:
"This tank, originally the Pz. Kpfw. VI, first was encountered by the Russians in the last half of 1942, and by the Western Allies in Tunisia early in 1943..."
Click here to read about the German King Tiger Tank.
Click here to read a 1944 article about the Tiger Tank.