Here is the skinny on the Ford Motor Company's M8 Greyhound Armored Car as it was presented to the olive-clad readers of YANK MAGAZINE in the summer of 1944:
"Armored Car, M8, 6x6: the Army's latest combat vehicle, is a six-wheeled, eight-ton armored job that can hit high speeds over practically any type of terrain. It mounts a 37-mm cannon and a .30-caliber machine gun in a hand-operated traversable turret..."
An enthusiastic YANK MAGAZINE article about the Douglas DB-7/A-20 Havoc (the British called it the "A-20 Boston"): throughout the course of the war, there was no other attack bomber that was manufactured in greater quantity than this one (7,477).
"An eyewitness report of a pre-invasion mission over the continent in one of the newest and most effective U.S. air weapons, an attack bomber that looks like an insect but moves and hits with the speed of a meteor..."
Four pictures and few well-chosen words concerning a German command and reconnaissance car as well as two Nazi half-tracks (one capable of carrying ten men, the other twelve).
Click here to read about the American Army half-tracks.
This article page from a 1943 YANK MAGAZINE concerns the American A-36 fighter-bomber of World War II. The article is accompanied by photographs and testimonial accounts as to how well the fighter aircraft performed in combat over North Africa and Sicily.
"Built by North American Aviation, this ship is a dive-bomber version of that company's P-51 Mustang fighter. The A-36 can climb at the rate of nearly half a mile a minute, with a ceiling of 30,000 feet. Powered by a 12-cylinder Allison engine, it has a flying speed in excess of 400 miles an hour..."
From the pages of a 1943 issue of America's Alertman was this page that presented some information about the German JU 88 twin engine bomber, which was the primary offensive aircraft in the Luftwaffe's arsenal during the Second World War. It was the successor to the Ju-87 and saw service as a night fighter and torpedo bomber in addition to serving as reconnaissance aircraft. The earliest prototype first flew in December of 1936 with a civilian registration of D-AQEN; it managed a top speed of 360 mph. Throughout the course of the war there were 15,000 JU 88's constructed.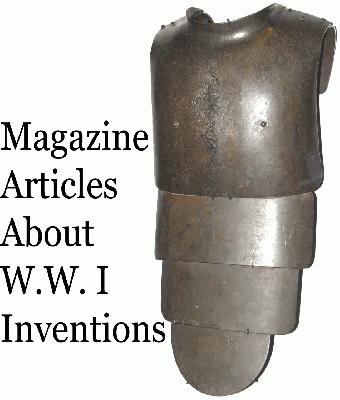 The attached article from 1943 goes into greater detail and can easily be printed.
The American army's Aberdeen Proving Ground rests on 72,962 acres in Aberdeen, Maryland. Since 1917 it has been the one spot where the U.S. Army puts to the test both American and foreign ordnance and in 1944 the gang at Aberdeen got a hold of a 61 1/2 ton German "battle-wagon", popularly known as the "Tiger Tank" (PZKW-VI). This is a nicely illustrated single page article that explains what they learned.
For further reading about the Tiger Tank, click here.