This article confirms that the 3-D film format was brought into existence in 1952 for the same reasons it exists today: to get TV audiences off of their wallets and into the theaters.
If 3-D didn't work, the producers could always attract audiences with this...
It was called the Universal-International School of Motion Picture Drama and it was established in 1948 (the year of it's closing is not so easy to find). The school's young students were all Universal contract players who had been chosen by legendary casting agent Robert Palmer; a few illustrious names from the alumni list include Rock Hudson, Tony Curtis, Shelley Winters, Jeff Chandler and Piper Laurie.
Although he is not listed as a student in that program, Clint Eastwood can clearly be seen in the center of the attached class photo.
Illustrated with a photo of L.A. mobster Mickey Cohen and his wife, this short column from 1949 summarizes one of the many shake-down schemes that the thug would employ to blackmail Hollywood actors during their weaker moments.
Earl Blackwell and Ted Strong
founded a curious institution that they called "Celebrity Services, Inc." in 1938 - figuring, as they did, that
"Today America has more celebrities than it can keep track of and Celebrity Services aims, simply, to keep track of them."
"Celebrity Services' office is a busy hodge-podge of files, cross-files, indices, cards folders, stuffed pigeonholes, telephones, confidential memos address books, private dossiers and fat envelopes" - all pertaining to the lives of 50,000 celeb-utopians.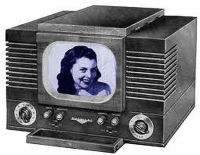 Screen scribe Sidney Carroll put to paper a serious column about the productive life of Samuel Goldwyn (1879 – 1974) and all that he had accomplished since he co-founded Hollywood (along with Cecil B. De Mille) in 1913:
"He has done many remarkable things in 30 years. He has made as many stars as any man in the business; he was the first to make feature-length films; he was the first to bring the great writers to Hollywood... Goldwyn is the greatest maker of motion pictures ever to come out of Hollywood [with the exception of The Goldwyn Follies (1938)].