"Show me a good fellow backstage, and I'll show you a lousy actor onstage" famously stated W.C. Fields. The author, former Hollywood press agent David Hanna, proves the comedian's point with numerous anecdotes drawn from both Broadway and Hollywood.
Arriving in Hollywood by way of "The Trouble with Harry" in 1955, and cute as buttons - Shirley MacLaine (b. 1934) was the adopted "little sister" of the Rat Pack, that odd movie star whose sensitive skin burned too easily in the California sun and one of the few starlets who was actually capable of sewing her own clothes.
We all know that there are two sides to every story, but not in this article. If the utterances of Clark Gable's first wife (Josephine Dillon, 1884 - 1971) are true, then we have no choice but to believe that Gable was a real stinker.
"When Miss Dillon left for Hollywood, he followed. A year later they were married in Los Angeles by gospel minister A.C. Smithers. Josephine traded the Dillon name to become Mrs. Clark Gable. It didnít take her long to discover quite a bit about her new young husband. He didnít even have a grammar school education. He knew nothing about acting. And he was penniless. They lived in the money Josephine made as a dramatic coach. There wasnít much of it, because her best pupil was her big-eared husband; his lessons were 'on the house'. He sopped up what she knew like a sponge."
This article confirms that the 3-D film format was brought into existence in 1952 for the same reasons it exists today: to get TV audiences off of their wallets and into the theaters.
If 3-D didn't work, the producers could always attract audiences with this...
It was called the Universal-International School of Motion Picture Drama and it was established in 1948 (the year of it's closing is not so easy to find). The school's young students were all Universal contract players who had been chosen by legendary casting agent Robert Palmer; a few illustrious names from the alumni list include Rock Hudson, Tony Curtis, Shelley Winters, Jeff Chandler and Piper Laurie.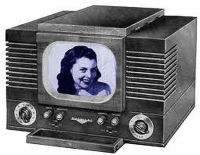 Although he is not listed as a student in that program, Clint Eastwood can clearly be seen in the center of the attached class photo.
Illustrated with a photo of L.A. mobster Mickey Cohen and his wife, this short column from 1949 summarizes one of the many shake-down schemes that the thug would employ to blackmail Hollywood actors during their weaker moments.