Illustrated with pictures of Winston Churchill's weird zipper suit and Joseph Stalin's "all purpose costume", 1940s fashion critic Elizabeth Hawes (1903 - 1971) taunts the Great-American-Male and challenges him to respond in kind by wearing copies of these comfortable threads:
"Today's business clothes were worked out by the winners of the Industrial Revolution, whose descendants are the big tycoons of our day...Aspirants to leadership and success normally copy the clothes of existent leaders. Isn't it about time the most of you changed your suits?"
Elizabeth Hawes wrote more on the topic of W.W. II fashions...
Although there is black-out during the war years, the attached charts will give you a sense of the preferred suiting colors both before the war and upon it's immediate conclusion. The pointy-headed soothsayers who attempt to predict which colors men will buy were very surprised to find that in the aftermath of World War II, American men were quite eager to buy browns and khaki-colored suiting after all.
Halfway through 1944 American magazines began their individual count-downs until the war's end; running with articles about the post-war world, the end of rationing, the demobilized military and the guaranteed boom that would come in the menswear industry. The attached fashion editorial appeared early in 1945 promotes the versatility of gabardine wool, it's earliest appearance in the Middle ages, it's use in uniforms and it's newest application in sportswear.
The article is illustrated with five terrific color photographs.
The attached article from 1943 appeared in a number of publications throughout the nation in order to impart to the women (and perhaps a handful of the men) how urgent was the need for their used silk stockings.
More about silk on the W.W. II home front can be read here...
Click here to read about the woman who dictated many of the fabric restriction rules on the home front.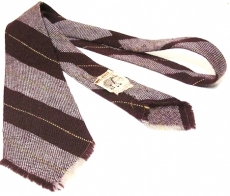 A well illustrated wartime review concerning what the women of fashion can do to enhance life in spite of the government shortages.
A couple of paragraphs from a popular fashion industry trade magazine that pointed out that the white cotton knit crew-neck garment we call the T-shirt came into this world with the name "quarter sleeve" and had it's origin in the U.S. Navy where it earned it's popularity and soon spread to other branches of the U.S. military during the mid-to-late 1930s. When the war ended in 1945 the T-shirt was the only element of the uniform that American men wanted to keep.
There was another fashion innovations of W.W. II, click here to read about it...