The attached article from 1943 appeared in a number of publications throughout the nation in order to impart to the women (and perhaps a handful of the men) how urgent was the need for their used silk stockings.
Click here to read about the most magnificent stockings of the Forties...
More about silk on the W.W. II home front can be read here...
Click here to read about the woman who dictated many of the fabric restriction rules on the home front.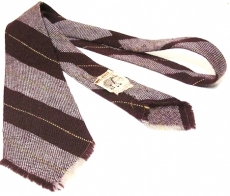 A well illustrated wartime review concerning what the women of fashion could do to enhance life in spite of the government shortages.
A couple of paragraphs from a popular fashion industry trade magazine that pointed out that the white cotton knit crew-neck garment we call the T-shirt came into this world with the name "quarter sleeve" and had it's origin in the U.S. Navy where it earned it's popularity and soon spread to other branches of the U.S. military during the mid-to-late 1930s. When the war ended in 1945 the T-shirt was the only element of the uniform that American men wanted to keep.
There was another fashion innovations of W.W. II, click here to read about it...
This is a remarkably brief history of the W.P.B. restrictions on American necktie manufacturers during the Second World War.
When the fops answered the call in 1942, these are the hats and shoes they walked away wearing.
You will be able to easily print the attached page of fashion images.
On another note: the legendary fashion designer Christian Dior had a good deal of trouble with people who would illegally copy his designs; click here to read about that part of fashion history.