Here is a wonderful photo-essay that depicts the lives of one of the most pious communities in the United States: the Mennonites of Lancaster County, Pennsylvania:
"The Biblical statement that God wished to 'purify unto himself a peculiar people, zealous of good works' [Titus 2:14] is followed literally by the Amish. They do everything possible to ensure their goodness and to make themselves different from ordinary men."
During the last decade of the Nineteenth Century a new Protestant faith was conceived in Kansas City, Missouri, that sought to reveal Christ's love and it was called Unity:
"Unity would be the last group in the world to seek or expect recognition for its trailblazing, pioneering religious techniques. Yet, many, many decades before the phrases 'the power of positive thinking' and 'abundant living' were heard in the land, Unity taught that God never meant this life to be a trial and a vale of tears, but, on the contrary,that it 'is God's will for man to be strong and vigorous and rich and successful and happy."
Following the close of the Second World War America took a good look at herself and slowly began to clean house. Assorted magazines and newspapers began to publish articles about various injustices that seemed to be overlooked during the previous centuries in order that remedies could be found and national integrity restored. When this column was sent to the printer it was a time when numerous states barred atheists from holding elective office, serving as a court witness or work as a school teacher. All of this was taking place in spite of the fact that the census bureau records indicated that as many as 36.6% of the U.S. citizenry had no affiliation with any religious institution.
Another article about an outstanding Episcopal bishop can be read here...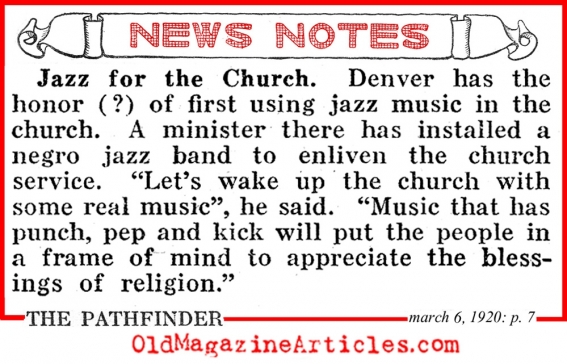 This is a report from 1952 on the largest group of Christians in the United States during that period in time:
"The United States is sometimes called a 'Protestant nation.' It isn't, of course. It is a nation of 150,697,361 free people, free to choose whatever path to God they please. But it was settles largely by Protestant denominations; it has, in fact, the largest Protestant population of any nation on earth. By latest tally, 81,862,328 Americans belong to religious bodies. Of these 59 percent are Protestant. Roman Catholics account for 33 percent, Jews for six percent and other faiths for two percent."
"In His Steps, the second most popular book in history, has sold [50,000,000] copies [and just as many downloads] and is still going strong."
Gertrude Stein, witness to both World Wars, believed that the there were many differences between the W.W. I American Doughboy and their W.W. II counterparts, but the primary differences was the absence of Bibles.