Prohibition History Film Clips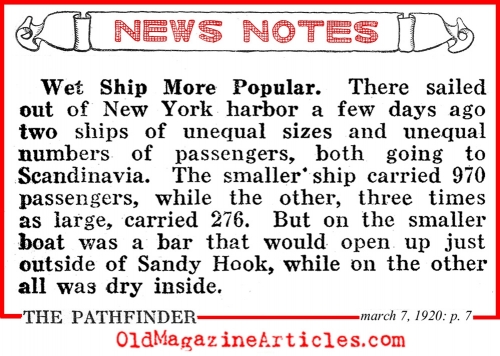 Four months into the Noble Experiment of Prohibition, three respected British Writers, Hilaire Belloc, G K. Chesterton and Solomon Eagle all sound-off on American Prohibition.
To be sure, there were complications with the prohibition of alcohol in the United States. While American clergy debated with government concerning the issue of sacraments involving wine, one enterprising restaurateur took advantage of the fact that the law, as it was originally written, only involved alcoholic beverages and decided to offer an inebriate in the form of a jelly sandwich.
The "Dry" forces in Washington, who vigorously patted themselves on the back for having been able to get the Eighteenth Amendment through Congress in December of 1917, wanted the law to take effect sooner than the amendment had mandated. Shortly after the signing of the Armistice, they rallied their members on the Hill and launched a piece of legislation through Congress called the Emergency Agricultural Appropriations Bill:
"President Wilson signs the Emergency Agricultural Appropriations Bill, whose rider provides for national prohibition from July 1 next until the American Army is demobilized."
I 1913 Presbyterian preacher Billy Sunday (1862 - 1935) was, without a doubt, one of the most visible advocates for the successful implementation of any federal legislation that would outlaw liquor across America. When it became clear to many that Prohibition was causing far more problems than it solved, he continued to strongly support the legislation, and after its repeal in 1933 the Preacher called for its reinstatement.
"Our boys are to be drafted into service. We cannot afford to draft them into a demoralizing environment."
-the words of Mr. Raymond B. Fosdick (who would later be lampooned by Chester Gould in the comic strip, "Dick Tracy" as "Fearless Fosdick") as he announced the intentions of the Federal Commission on Training Camp Activities. This long forgotten and failed government program was set up two years prior to prohibition to combat the "demoralizing influences" so the officers and men could concentrate on more sublime topics, like chemical warfare.

MORE ARTICLES >>> PAGE: * 1 * 2 * 3 * 4 * 5 * 6 *

7

* 8 * 9 * > NEXT