Although much of what Dr. Alfred Kinsey wrote concerning male sex patterns has been debunked in our own age, his conclusions were taken quite seriously in the late Forties and early Fifties. This slender column serves as a summary and review regarding his studies that were published in his 1948 book, Sexual Behavior in the Human Male (1948).
From Amazon:
Sexual Behavior in The Human Female and Sexual Behavior in the Human Male Two Volume Set
During the First World War a popular songster in the United States penned a little diddy that ran just so:
"-Though the Army is the clover
T'was the Navy brought them over
And the Navy will bring them back...".
In anticipation of this roll, the far-seeing Department of the Navy ordered each and every American battleship to have within its arsenal at least one sewing machine, and a tar who was proficient at tailoring in order to make themselves worthy of the task.
The attached article, "A Mother's Ordeal with Homosexuality" first appeared in 1955, a time when the term "gay" was not known, and the word "homosexual" was used in its place - and as you will learn, homosexual was essentially synonymous with the designations "sex offender", "Paraphilia" and "Child molester".
"The charge of homosexuality against someone, anyone, is not a light one. It requires proof, the strictest proof there is; getting it is not an easy matter."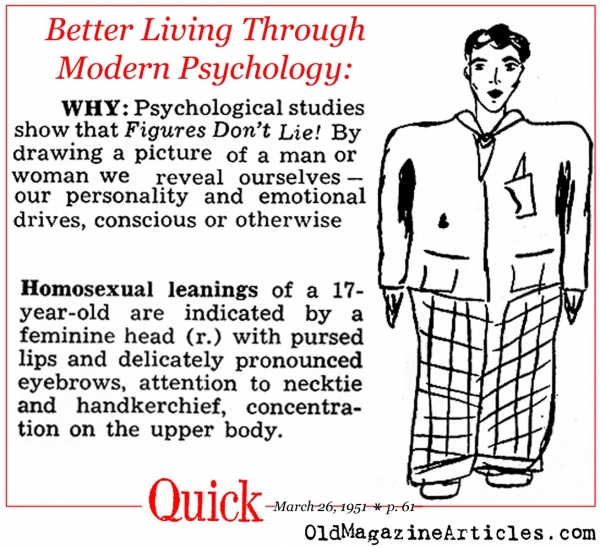 When watching the old newsreel footage from the two world wars you see a fair amount of American sailors going about their business. They wore a uniform that seemed to have its origins in the Nineteenth Century, with bell bottom trousers and an odd shirt called a jumper. The blue jumper of an American sailor is decorated with various white stripes, stars and topped off with a queer little black silk kerchief; this article seeks to explain what the origins behind them all were largely British.
This article is about the chemist Dr. Leo Hendrik Baekeland (1863 - 1944) - who left the world a far more plastic place than when he had found it.