"If President Roosevelt were a Caliph in ancient Baghdad, he would disguise himself as a Congressman and wander about the country asking the man at the filling station, the hitch-hiker, the farmer and his wife, the local chairlady of a woman's club - he would ask them what they thought of FDR, the NRA, [General] Hugh Johnson, Brain Trusters, Jim Farley and the entire set-up in Washington... He would be startled. Mr Roosevelt is growing exceedingly unpopular - not so much the President himself as his Administration."
More about New Deal problems can be read here...
"The last report of the Bureau of Internal Revenue furnishes conclusive evidence that many of the families who were maintaining our social front during the delirious decade ending in 1930 have been reduced to incomes that are negligible... Well-worn suits, cobbled shoes and re-enforced linen is what the quondam well-dressed man of 1929 is now wearing, even when he appears at such country clubs as have managed to survive by waiving dues rather than close their doors."
Many of the back-handed dealings that would be addressed in John Steinbeck's 1939 novel, "The Grapes of Wrath" are illustrated in the attached photo-essay titled, "Slavery in America". This article is about the cruel world of the Deep South that existed in the Twenties and Thirties. It was an agrarian fiefdom where generations of White planters and factory owners practiced the most un-American system of exploitation and feudalism that developed and was perpetuated from the chaos wrought by the Civil War and Reconstruction. It was a nasty place where the working people of both races labored under conditions of peonage and bone-crushing poverty with no hope in sight.
Click here to read more about the American South during the Great Depression.
"It is illuminating to realize that more persons are receiving relief in the United States than there are individuals in such well-known countries as Romania (18,000,000), Mexico (16,500,000), Czechoslovakia (14,800,000) and Yugoslavia (14,000,000); over twice as many as Belgium (8,000,000) and Holland (7,920,000); about three times as many as in Sweden (6,140,000) and to cut theses comparisons short - almost seven times as many in all of Norway (2,800,000)... Clearly, it is not in the least inaccurate to speak of the relief population of the United States as a great nation within a nation... Women and children comprise as much as two thirds of the relief population."
The columnist whose opinions are attached angrily pointed out that the first year of FDR's administration had marginalized the Congress - and further opined that Roosevelt's rhetoric clearly implied his arrogant conviction that his administration alone was the only alternative to out right revolution, and should therefore to be seen as a mandate of the people. The article lists the numerous failings of FDR's "New Deal".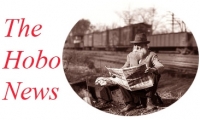 CLICK HERE to read more criticism from FDR's loyal opposition...
When FDR's first term reached the half-way mark the editor of NEW OUTLOOK, Francis Walton, sat down at his typewriter and summarized the new president's record:
"It is a record of action - mostly ill-considered. It is a record of astounding failures. It is a record of abandoned experiments smilingly excused and apologized for by their perpetrator even before they were undertaken... It is a record against which natural recovery is waging a super-human struggle to reach us."