This is a graduation commencement speech that was written simply to appear on the printed page of a 1933 magazine - it was far too depressing to have ever been recited before an audience of eager-eared graduates and their doting relatives.
"You know, of course, that 'times are hard'... You know that less than ten percent of the post-graduate professional men from last year's class have found work. And you have heard from home. Allowances have been cut. Classmates have had to drop out of college. Old family friends have had grave misfortunes. Homes have been lost. You know all these things, but you can't realize them fully at this moment. You will, unfortunately, realize them only too well when you yourselves try to find a place in the world."
"Scrip (sometimes called chit) is a term for any substitute for legal tender and is often a form of credit" - so reads the Wikipedia definition for those items that served as currency in those portions of the U.S. where the bucks were most scarce. If you've been looking for an article that showed that not every American had faith and hope in the "economic genius" of FDR and his "Brain Trust" - you found it.
The attached news column tells a scrip story from the early Thirties - the type of tale that was most common on the frontier in days of old.
Columnist George Sokolosky (1893 - 1962), writing from the road, reported that a general uneasiness had fallen across the land as a result of the economic stagnation:
"Wherever I go, I am told of how many families live on the city and country. In Williamsport, Pa., a delightfully intelligent young woman explained to me how this year was different from last in that many of those who contributed to charities are now, rather quietly, taking charity."
A single paragraph from the late Forties explains who was behind the rise and fall of the oft-photographed sidewalk apple vending stands in New York City.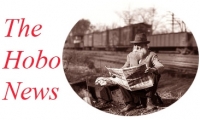 Click here to read about the end of the Great Depression...
Novelist Taylor Caldwell (Born Janet Miriam Holland Taylor Caldwell: 1900 - 1985) recalled the bleak days of the Great Depression - and the perpetual appearance of American socialist who seemed always to be in recruitment mode.
"Open or crypto-Communists, they had one unwavering theme: Communism was a System with a Heart. Communism was the new Christianity. Communism was the savior of the working people. America must become Communistic, if it was to pull out of the Great Depression. The Light of the World was not in my church. It was in Moscow."
Click here to read further about American Communists during the Great Depression...