Attached is one American journalist's view of the Great War as it is waged on the home-front by the British people. He was impressed with the resolve of the population to win the war and he found that everyone, regardless of age or infirmity, was pursuing war work with a surprising earnestness.
"The outward evidences of a nation at war are plentiful in London. Soldiers are everywhere. Columns of armed men and columns of recruits still in civilian clothes march through the streets. Drilling goes on in the parks and other places all day and every day."
Read about how the First World War effected life on the campus of Eton College.
One of the most curious aspects of the Great War that generated a good deal of conversation among the civilian populations was camouflage. Many people believed that camouflage was one of many elements that made that war so terribly different from all other wars. One well-read reader from a respectable American magazine would have non of it: she composed a well researched letter explaining that the need for camouflage preceded the era of industrial warfare and was practiced by the ancient combatants of Greece and Rome as well.
Seven sketches from Soissons by the war artist Charles Huard (1875 - 1965) as they first appeared in a fashionable American society magazine.
Click here to read additional article about the World War I artists.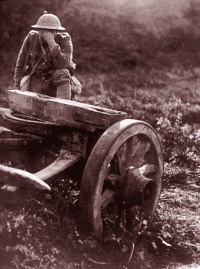 Pictured in the attached PDF file is a seldom-seen black and white photograph depicting the deflated remains of an unidentified W.W. I German zeppelin as it rested on the tree tops of a French forest after having been forced from the skies.
In the Spring of 1940, Leo Kober, devoted reader of CLICK MAGAZINE and former crew member of one of the Kaiser's airships during the First World War, felt compelled to send his personal snap-shots of his zeppelin days to the editors of his fave mag with a few notations; and now we pass them along to you.
This news piece appeared in a Georgia newspaper during the closing weeks of American "neutrality". The first report of this French naval blunder involving a French torpedo boat sinking a French submarine came from Berlin, rather from Paris or London, where such events would never make it past the censors.
This brief notice makes no mention as to the original source or who witnessed the accident.