Published during the closing months of the war, the following five page article is a beautifully written account, by an Old Etonian illustrating the strange atmosphere felt on the Eton campus as a result of the Great War with all it's sadness and uncertainty.
Click here if you would like to read a magazine article about World War I as it was experienced on the Harrow campus.
"Yank and Aussie and Jock, Italian, Portuguese, Greek, Pole, Checko-Slovak, Tommy, Indian, all from the newly arrived Brazilians to the wizened and and weather-beaten poilus wearing the seven brisques denoting four years in the furnace, knew no nationality, no difference of tongues or even of uniform."
Click here to read another article about the 1918 Armistice.
The War That Ended Peace: The Road to 1914
William Beebe is best remembered for his exploration of the oceans in a submersible craft called a "Bathysphere", however, as a younger man his study of nature brought him to war-weary Paris.
"Four devastating years of war had altered the city and made quite an affect on the young naturalist. His astute and very moving observations were recorded in this essay, "A Naturalist in Paris".
This link displays the first six pages; the remaining seven pages are available upon request.
Attached is one American journalist's view of the Great War as it is waged on the home-front by the British people. He was impressed with the resolve of the population to win the war and he found that everyone, regardless of age or infirmity, was pursuing war work with a surprising earnestness.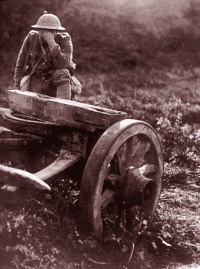 "The outward evidences of a nation at war are plentiful in London. Soldiers are everywhere. Columns of armed men and columns of recruits still in civilian clothes march through the streets. Drilling goes on in the parks and other places all day and every day."
Read about how the First World War effected life on the campus of Eton College.
One of the most curious aspects of the Great War that generated a good deal of conversation among the civilian populations was camouflage. Many people believed that camouflage was one of many elements that made that war so terribly different from all other wars. One well-read reader from a respectable American magazine would have non of it: she composed a well researched letter explaining that the need for camouflage preceded the era of industrial warfare and was practiced by the ancient combatants of Greece and Rome as well.
Seven sketches from Soissons by the war artist Charles Huard (1875 - 1965) as they first appeared in a fashionable American society magazine.
Click here to read additional article about the World War I artists.