"Yank and Aussie and Jock, Italian, Portuguese, Greek, Pole, Checko-Slovak, Tommy, Indian, all from the newly arrived Brazilians to the wizened and and weather-beaten poilus wearing the seven brisques denoting four years in the furnace, knew no nationality, no difference of tongues or even of uniform."
Click here to read another article about the 1918 Armistice.
- from Amazon:
The War That Ended Peace: The Road to 1914
William Beebe is best remembered for his exploration of the oceans in a submersible craft called a "Bathysphere", however, as a younger man his study of nature brought him to war-weary Paris.
"Four devastating years of war had altered the city and made quite an affect on the young naturalist. His astute and very moving observations were recorded in this essay, "A Naturalist in Paris".
This link displays the first six pages; the remaining seven pages are available upon request.
Click here to read about the day when the Nazis took Paris.
One of the most curious aspects of the Great War that generated a good deal of conversation among the civilian populations was camouflage. Many people believed that camouflage was one of many elements that made that war so terribly different from all other wars. One well-read reader from a respectable American magazine would have non of it: she composed a well researched letter explaining that the need for camouflage preceded the era of industrial warfare and was practiced by the ancient combatants of Greece and Rome as well.
Seven sketches from Soissons by the war artist Charles Huard (1875 - 1965) as they first appeared in a fashionable American society magazine.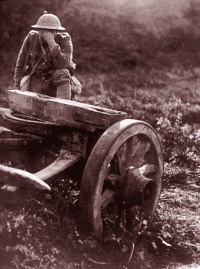 Click here to read additional article about the World War I artists.
Pictured in the attached PDF file is a seldom-seen black and white photograph depicting the deflated remains of an unidentified W.W. I German zeppelin as it rested on the tree tops of a French forest after having been forced from the skies.
In the Spring of 1940, Leo Kober, devoted reader of CLICK MAGAZINE and former crew member of one of the Kaiser's airships during the First World War, felt compelled to send his personal snap-shots of his zeppelin days to the editors of his fave mag with a few notations; and now we pass them along to you.