A light and breezy review concerning the findings of a U.S. government study regarding the effectiveness of the Allied strategic bombing campaign against Nazi Germany:
"...the survey authorities report that although air power might have been more advantageously applied in this case or that, its decisive bearing on the victory was undeniable...At sea, its contribution, combined with naval air power, brought an end to the enemy's greatest naval threat -the U-boat; on land, it helped turn the tide overwhelmingly in favor of allied ground forces."
Articles about the daily hardships in post-war Germany can be read by clicking here.
The story of Sergeant Frank Kwiatek, a W.W. I veteran who remained in the U.S. Army long enough to serve in the next war and have-at the Germans all over again. His distaste for German snipers was remarkably strong.
Attached you will find a few well-chosen words about that famous 1943 photograph that the censors of the War Department saw fit to release to the American public. The image was distributed in order that the "over-optimistic and complacent" citizens on the home front gain an understanding that this war is not without a cost.
A haunting image even sixty years later, the photograph depicts three dead American boys washed-over by the tide of Buna Beach, New Guinea. The photographer was George Strock of LIFE MAGAZINE and the photograph did it's job.
Click here to read General Marshall's end-of-war remarks about American casualty figures.
The attached YANK MAGAZINE article was written from the perspective of the American G.I.; it lays out a few peculiar facts about life in the World War Two Brazilian Army:
"Every type of South American racial strain is represented. This gives a squad the appearance of a capsule League of Nations, except that there are no blonds."
"When Michael Campiseno turned 18, he was pulled out of his senior class in Norwood High School and drafted. Mike was sore. He swore that if he ever returned, he'd throw his discharge papers on the desk of the board chairman and say, 'Now, ya sonuvabitch, I hope you're satisfied!'"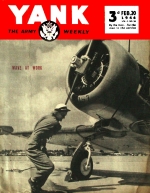 Here is the skinny on Draft Board 119 of Norwood, Massachusetts - an average draft board that sent 2,103 men off to war (75 of them never came back).
To read an article about American draft dodgers of W.W. II, click here.
Written four months after the allied invasion of Europe, and seven months to go until the war's end, YANK MAGAZINE published this account of the Canadian march through France and their heroic stand at the Falaise Gap.
Read about the Canadian Preferences for English spelling...