"So they've given up."
"They're finally done in, and the rat is dead in an alley back of the of the Wilhelmstrasse."
"Take a Bow, GI - take a bow, little guy."
"Far-flung ordinary men, unspectacular but free, rousing out of their habits and their homes - got up early one morning, flexed their muscles, learned the manual of arms (as amateurs) and set out across perilous oceans to whop the bejeepers out of the professionals."
"And they did."
This tiny notice reported that the G.I. Bill of Rights was passed Congress, was now enacted into law. A list of all the original (1944) veteran's benefits are listed for a quick read.The readers of YANK were the intended beneficiaries of this legislation and it seems terribly ironic that this news item was granted such a minute space in the magazine.
No matter how you slice it, few acts of Congress have left such a beneficial mark across the American landscape as this one.
An article by the W.W. II war correspondent Martha Gellhorn (1908 - 1998) who rode with the crew of a P-61C Black Widow Night Fighter one evening as they made their rounds over what remained of Hitler's Germany: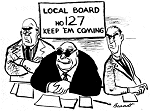 "COLLIER'S girl correspondent sat on a wobbly crate and flew over Germany looking for enemy planes at night. Her nose ran, her oxygen mask slipped off, her stomach got mad, she was scared and she froze. They didn't down any Germans, but otherwise that's routine for the Black Widow pilots."
Click here to read additional articles about the war correspondents of the Second World War.
Click here to read Martha Gellhorn's article about what she saw at Dachau.
Click here to read about the 1943 bombing campaign against Germany.
An essay on the U.S. Navy's progress during the first six months of World War Two.
" Japan's decision to launch a war was based on the assumption that the conflict in Europe would render Russia and Great Britain negligible factors in the Far East. It was based on the further assumption that the United States, already committed to near belligerency in the Atlantic could not, even if finally successful in that theater, mount an offensive in the Pacific in less than 18 months to two years and would not in any case be willing to pay the price of total victory in the Pacific."