"The Yank is not expert at deception, but he can change his plans rapidly. He is a wizard at handling machinery and he can build airfields, roads and advance bases with uncanny speed."
- so wrote one of the bewildered Japanese Army generals concerning his experiences with the American military in the Pacific.
"At the beginning of World War II, our army was a mixture of callow boys and and domesticated men. The older men were homesick for wives and children...There were plenty of lonely wives, too, and it soon became evident that a fair number of them were committed to the belief that continence was bad for women."
Marriage vows were one of the unsung casualties of the Second World War: by 1944 many married women who hadn't seen their drafted husbands in years began producing babies; you can read about that here...
In 1943 a woman on the home front introduced a sexual component that she believed would bring an end to the problem of industrial absenteeism - click here to read about her idea...
"A mob of French-Canadian youths surged through Montreal with skull-and-crossbones sign [that read]: "Are We Cannon fodder? Do We Want Conscription? No!" Quebec province seethed with rage at Prime Minister Mackenzie King's decision to send draftees overseas."
Their father's resisted the draft some twenty years earlier...
As America was gearing up to fight another world war, the brass caps were reminded how incapable they were at identifying and isolating the mental incompetents during the last war, and they swore this war would be different. Numerous military and civilian psychiatrists were convened, and it was concluded that of the millions of men called, at least 15 percent would likely be off-their-rockers.
This column summarizes General Bradley's early life and career with a good deal of space devoted to his leadership during the North African Campaign: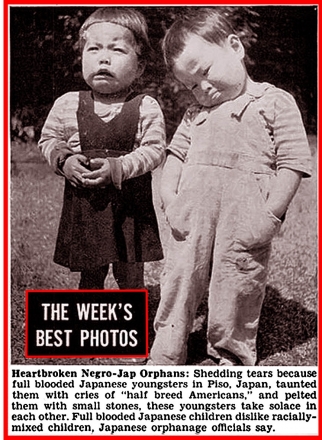 "Chosen over dozens his senior in service, he was sent to North Africa in February 1943 as deputy to General Patton. In May he succeeded Patton. On several critical occasions his tactical skill and remarkable sense of timing surprised the Germans and soundly defeated them. One of his favorite maxims: 'Hit the enemy twice: first to find out what he's got; then, to take it away from him.'"
We have no idea who Tom O'Reilly was - beyond what can be immediately conjectured, that he was a staff columnist with PM, and so admired that they thought it a grand idea to clean him up and send him off to see Nazi Germany in its death throes. O'Reilly had a very candid, off-the-cuff manner of writing, which came across as quite humorous when he explains how unimpressed he was with General Patton's dramatic appearance.