In 1935 Edward VIII, while still a prince, wished to launch a national "thank-you offering" to the younger generation:
"'The Prince', said "The News Chronicle of London", 'has put his finger on the weakest point in our present social structure. The State shows at least some concern for infancy and childhood, for the blind and defective, for the widow and the aged. The task of helping youth at the most critical age has been abandoned almost entirely to voluntary agencies, and the Prince wisely does not seek to supersede, but to reinforce and extend them.'"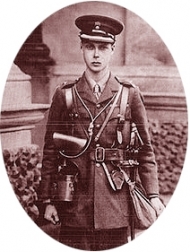 A five page magazine article which saluted the heir of Britain's King George V, Edward VIII (1894 – 1972: following his 1936 abdication he was granted the title Duke of Windsor). The article was written by the venerable journalist and U.S. Civil War veteran, George Haven Putnam (1844 – 1930) in order to mark the first visit made to the United States by that crowned head.
"Ten days after a would-be assassin had leveled a gun at him in London, King Edward VIII was scheduled to return to the Western Front, where, as a gangling boyish staff captain, he narrowly missed death from a shell that wrecked his car and killed his chauffeur."
"Few in Britain knew, at the time, of his repeated pleas to be allowed to forget his rank, lead the men over the top and, if fate so willed it, die for king and country."
This torn page from VOGUE will let you in on Edward VIII (1894-1972), Prince of Wales, and his whirl wind tour in the dominion of Canada in 1919. All the swells of the snowy North stepped out in full regalia to meet him.
"George V's son is a regular. He has the 'bonhomie'of a Broadway John, smokes all the time, admires a pretty face with an open affection, is bored by Beethoven, is a disciple of American jazz, and he hates to get up early in the morning."
*Watch a Film Clip and Litsen to the Abdication Speech of Duke of Windsor*
This article can be divided into two parts: the first half addresses King Edward VIII and his concern for the impoverished souls of his realm who languished daily in squalor, while the second half was devoted to gossip and innuendo as to who Wallis Simpson was, what was her Baltimore life like and when did she first see the king.
(She first saw him in 1920).